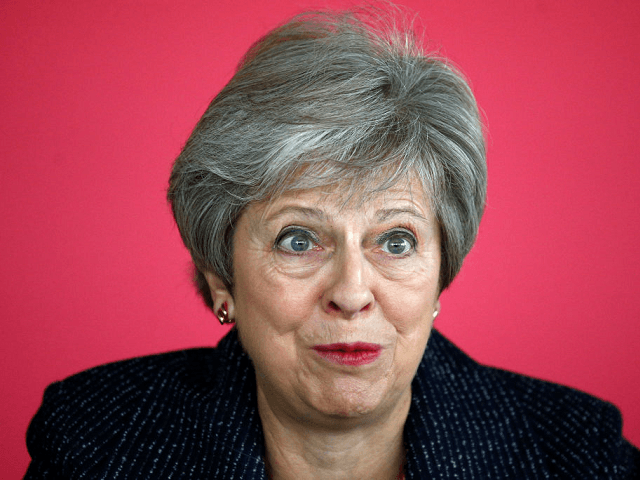 An amendment tacked onto the British Offensive Weapons Bill which would draw .50 calibre rifles used by target shooting enthusiasts into the legislation may be defeated by a group pro-Brexit parliamentarians as a show of force and warning to the Prime Minister over her cavalier attitude to delivering Brexit.
As Theresa May's Brexit negotiations continue to unravel in the face of repeated concessions made to the European Union negotiating team with little-to-no concessions made in return, Brexiteers in parliament may have to move to block a future vote, either to prevent a disadvantageous Brexit-in-name-only, or to destabilise May's government ahead of a leadership challenge.
Brexit rebels within the governing Conservative Party are keen to demonstrate their ability to derail legislation, according to claims published by Britain's left-wing Guardian newspaper, and plan to do so by blocking a minor amendment to the Offensive Weapons Bill 2017-19 which seeks to criminalise the small number of .50 calibre rifles in private hands in the United Kingdom.
15 acid attacks a week — this is modern Britain https://t.co/iCm4gkf4nQ

— Breitbart London (@BreitbartLondon) August 13, 2018
The dissenting MPs, it is claimed, are predominantly members of Jacob Rees-Mogg's pro-Brexit European Research Group.
The rifles, which are frequently incorrectly cited as 'anti-material' rifles by opponents — despite the fact that owning and using military ammunition is already strictly illegal for civilians in the United Kingdom — are typically owned and used by a small number of hobbyists and enthusiasts. It is this law abiding and already highly regulated minority that critics say the new law will unfairly punish.
The bill otherwise creates provisions to crack down on the sales of knives and acid in the United Kingdom, following two years of extreme violence which has seen Britain called the acid attack capital of the world, and London knife crime hit an all-time high.
Critics of the supplementary changes say the law has been targeted by a small number of MPs as an opportunity to pass a ban. One written submission to Parliament, recorded in Hansard, notes: "Numerous amendments, from the same 3 MPs (Karin Smyth, Louise Haigh, Vicky Foxcroft) show a lack of comprehension of existing legislation, & a negative focus against the target shooting fraternity. It seems to be a petty, 'jump on the bandwagon' approach in order to legislate further against a law-abiding group."
Mike Lindsay, a spokesman for shooting advocacy and information group Firearm UK, said justifying attempts to ban .50 calibre rifles by invoking terrorism fears was trying to solve a problem that does not exist. He said: "The small number of people that own [.50 calibre rifles] are highly vetted by police, are members of approved clubs that shoot on approved ranges and with approved target ammunition.
"The rifles are locked away when not in use and take great skill to operate effectively. They are large, heavy and cumbersome tools that have never been used in crime here. MPs appear to be citing the troubles in Northern Ireland as a valid incident of their use, however, this was not a legally held bolt action target rifle… Illegal Weapons used during the troubles were smuggled in from abroad and not stolen from legal shooters.
"Police and government already know this but are targeting law-abiding shooters anyway so they can appear to be tackling the spike in violent crime without actually targeting those committing it."
London Hits Highest Levels of Knife Crime Ever, as One in Five Adults Experience a Crime in 12 Months https://t.co/slZrEp4WEg

— Breitbart London (@BreitbartLondon) October 18, 2018
There are just 129 privately owned, legal .50 calibre rifles in the United Kingdom.
Addressing parliament in June, Conservative MP Geoffrey Clifton-Brown also emphasised that the firearms amendments to the anti-knives and acid law was penalising law-abiding shooters without actually tackling crime. He said: "In this country, there are about a million firearms and shotgun certificate holders, who legally hold about 2 million weapons.
"They are some of the most law-abiding people in this country; only 0.2% of all recorded crime is committed with legally held firearms. I seek to persuade the House and the Ministers on the Front Bench that the proposal is wholly disproportionate, lacks an evidence base and penalises a group of very law-abiding citizens."
In a message to members, the Scottish Association for Country Sports said they had approached the Home Information for information about the proposed ban on .50 calibre rifles, and that the reasons given in public for the attempt to ban so far were "a lot of shite".
Oliver JJ Lane is the editor of Breitbart London — Follow him on Twitter and Facebook
http://feedproxy.google.com/~r/breitbart/~3/fx3gNDbzTak/