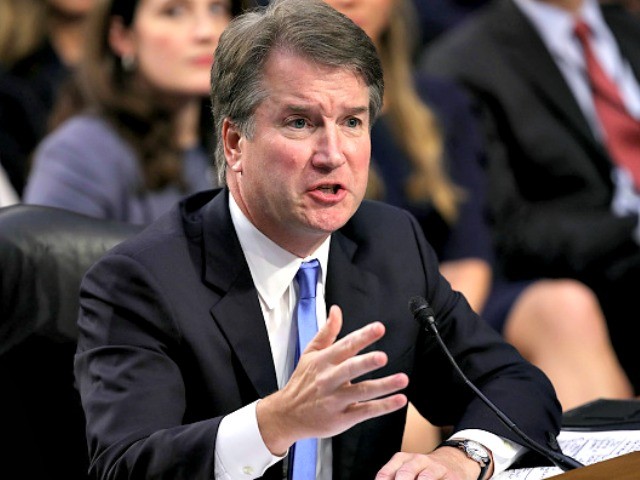 President Donald Trump's Supreme Court nominee, Judge Brett Kavanaugh, "categorically" denied sexual misconduct claims an anonymous person raised against him on Friday.
Sen. Dianne Feinstein (D-CA) referred to a letter to the Federal Bureau of Investigation (FBI) on Thursday that alleged Kavanaugh committed some form of sexual misconduct while he was in high school. Kavanaugh vehemently denied the accusations in a statement on Friday.
"I categorically and unequivocally deny this allegation. I did not do this back in high school or at any time," Kavanaugh said:
NEW: statement from Judge Brett #Kavanaugh on #feinsteinletter :
"I categorically and unequivocally deny this allegation. I did not do this back in high school or at any time."
Per @johnrobertsFox #SCOTUS #KavanaughConfirmation #Feinstein

— Brooke Singman (@brookefoxnews) September 14, 2018
On Friday, 65 women from both the Republican and Democrat parties who have known Kavanaugh since high school defended his character and said he has always behaved "honorably" and treaded "women with respect."
The women also said that Kavanaugh has "stood out for his friendship, character, and integrity."
65 women of bipartisan backgrounds who knew Judge Kavanaugh in high school: "For the entire time we have known Brett Kavanaugh, he has behaved honorably and treated women with respect" & has "stood out for his friendship, character, and integrity" #SCOTUS https://t.co/9dT54BC2qM pic.twitter.com/5QtcPfwjX5

— Senate Judiciary (@senjudiciary) September 14, 2018
"Judge Kavanaugh has denied this allegation and over 60 women – with a broad range of political views – who've known him since high school, have sent a letter to the Senate Judiciary Committee vouching for his integrity and respect for women over that time," says Carrie Severino, chief counsel for the Judicial Crisis Network. "This is nothing more than a last-minute attempt at character assassination, and there should no delay in confirming Judge Kavanaugh."
The allegation brought against Kavanaugh relates to his time as a student at Georgetown Preparatory School in Bethesda, Maryland, in the 1980s. Kavanaugh allegedly held a woman down and tried to force himself on her during a party before she got away, according to the New Yorker.
The New Yorker then described the accusation, writing:
In the letter, the woman alleged that, during an encounter at a party, Kavanaugh held her down, and that he attempted to force himself on her. She claimed in the letter that Kavanaugh and a classmate of his, both of whom had been drinking, turned up music that was playing in the room to conceal the sound of her protests, and that Kavanaugh covered her mouth with his hand. She was able to free herself. Although the alleged incident took place decades ago and the three individuals involved were minors, the woman said that the memory had been a source of ongoing distress for her, and that she had sought psychological treatment as a result.
The White House blasted that accusation in a statement on Thursday, charging that this is a last-minute attempt to attack Kavanaugh after the Supreme Court nomination hearings.
"Not until the eve of his confirmation has Sen. Feinstein or anyone raised the specter of new 'information' about him," White House spokesman Kerri Kupec said.
One source told Fox News that Feinstein received the letter in July; however, she waited until Thursday to release it.
Despite the accusation that arose due to Sen. Feinstein's referral, Senate Judiciary chairman Chuck Grassley (R-IA) said he does not plan to delay Kavanaugh's committee confirmation vote on September 20 and that they plan to confirm October 1.
Taylor Foy, Grassley's communications director, said in a statement on Friday, "Sen. Grassley is aware of Senator Feinstein's referral. At this time, he has not seen the letter in question, and is respecting the request for confidentiality. There's no plan to change the committee's consideration of Judge Kavanaugh's nomination."
http://feedproxy.google.com/~r/breitbart/~3/47WcXQfp2F4/