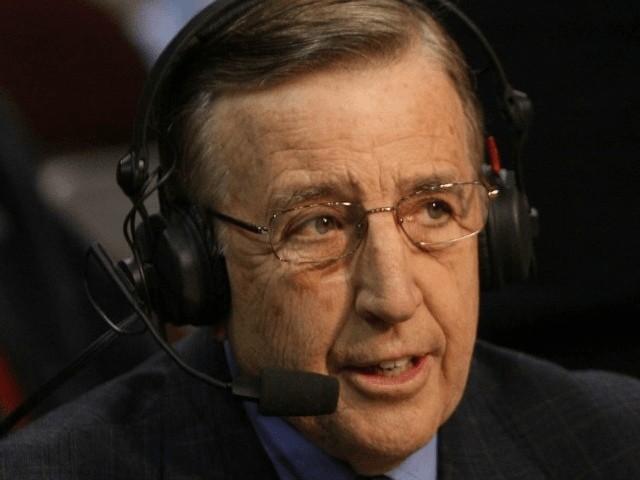 Brent Musburger, legendary former ESPN play-by-play man, founder of Vegas Stats & Information Insider, current Twitter sensation and Raiders broadcaster, took an image from a speech by President Trump and had some fun with America's most famous cultural appropriator.
Musburger took a photo from, Trump's speech in Montana, in which several Native American men in headdresses appear in the background. Musburger captioned the pic by saying: "Elizabeth Warren's 'relatives' backing Trump in Montana!"
Elizabeth Warren's "relatives" backing Trump in Montana! pic.twitter.com/JbkqdkbW1s

— Brent Musburger (@brentmusburger) November 3, 2018
According to the Mercury News:
Sen. Warren (D-Mass.) claims to be of Native American descent, something that Trump and others have mocked repeatedly. Trump frequently refers to Warren as "Pocohontas."

The tweet by Musburger brought praise and scorn for the 79-year-old radio voice of the Oakland Raiders. The team had no comment.
Twitter wasted no time in praising and attacking Musburger for his remark:
Good for you!!!!! 😊

— Jeanne Martin (@jeannemartin26) November 4, 2018
Brent you are the man

— Gym Novice (@gymnovice2017) November 4, 2018
Ignorant bigot.

— Cindy 👻🎃 (@cindy_tpa) November 4, 2018
Jesus. You're still alive? Go away already.

— Andrew Tristero (@rewFer) November 4, 2018
Hey Brett love VSIN but this crap will keep me from listening. Stick to point spreads.

— Patrick Conner (@pdconner52) November 4, 2018
Classic Brent lmaoo

— Grayson814 (@Grayson814) November 3, 2018
Most announcers would be made to apologize for a tweet like Musburgers. Then again, this is Brent Musburger, and he works for the Raiders.
Follow Dylan Gwinn on Twitter @themightygwinn
http://feedproxy.google.com/~r/breitbart/~3/n1UxgV-jyTo/