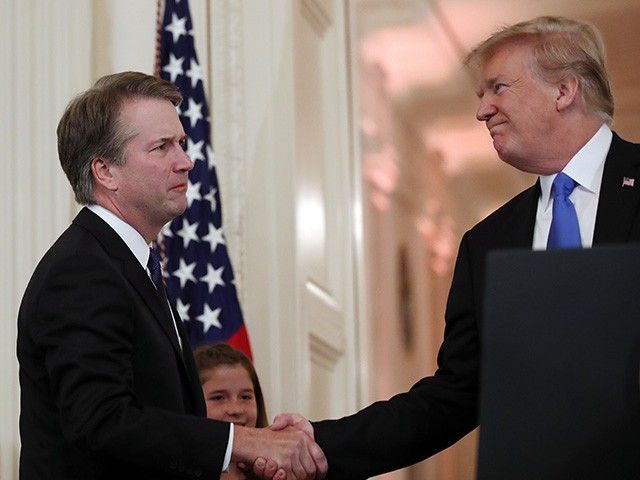 On Saturday on SiriusXM 125 the Patriot Channel, Breitbart News Washington Political Editor Matthew Boyle will host a two-part radio special in the lead-up to and in the aftermath of Judge Brett Kavanaugh's likely confirmation to the U.S. Supreme Court.
The normal Breitbart News Saturday program will air as usual from 10:00 a.m. to 1:00 p.m. Eastern, and then, as usual on SiriusXM 125 the Patriot Channel on Saturdays, it will be followed by two hours of live programming from Breitbart News' Sonnie Johnson, who hosts Sonnie's Corner. After Sonnie's Corner concludes, Boyle will return from 3:00 p.m. until at least 6:00 p.m. to host live news coverage and analysis of the Supreme Court vote.
Other Breitbart News editors and contributors including Editor-in-Chief Alex Marlow, Legal Editor Ken Klukowski, Deputy Political Editor Amanda House, and reporters including Ian Mason, Josh Caplan, Penny Starr, and more will join in on the live coverage.
Expect to hear from guests including former campaign manager for President Donald J. Trump's successful 2016 campaign Corey Lewandowski, Republican National Committee national spokeswoman Kayleigh McEnany, Rep. Ted Budd (R-NC), former White House and Trump campaign adviser and now senior adviser to Donald Trump, Jr., Andy Surabian, former Fox News host and now America First Policies vice president Kimberly Guilfoyle, Americans for Limited Government president Rick Manning, and many, many more. Matt Rosendale, the GOP nominee for U.S. Senate in Montana who is  challenging Democrat incumbent Sen. Jon Tester (D-MT)–one of the radical Democrats who intends to vote against Kavanaugh–will join the show as well, as may several other major guests.
Most importantly, as this vote is coming to a close, Boyle will take calls from listeners across the country at 866-95-PATRIOT or 866-957-2874 throughout the program.
#ProgramAlert LIVE @ 3PM ET TOMORROW "@SiriusXM Patriot Special Report – The Brett Kavanaugh Confirmation Vote" Hosted By @mboyle1 TUNE IN #Kavanaugh #KavanaughVote #SCOTUS @BreitbartNews

— SiriusXM Patriot (@SiriusXMPatriot) October 6, 2018
Listeners can tune in to Breitbart News Saturday with Matthew Boyle every Saturday on SiriusXM Channel 125 the Patriot Channel from 10:00 a.m. to 1:00 p.m. Eastern.
http://feedproxy.google.com/~r/breitbart/~3/wS2fGk4xicI/