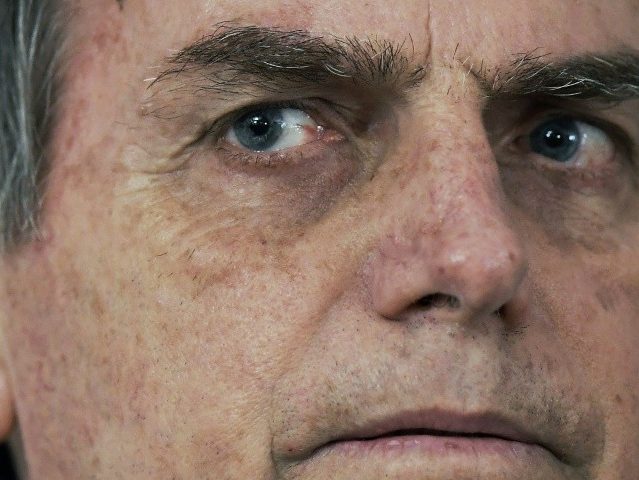 Thousands of leftist protesters took to the streets of Brazil this week to march in "resistance" against the election of conservative President-elect Jair Bolsonaro, with some groups protesters turning into violent confrontations, local media reported.
Large protests took place across the country to against Bolsonaro's victory, claiming that he will erode Brazil's democratic freedoms and return to the military dictatorship that led the country from 1964 to 1985.
"No one is giving up! No one is giving up! No one is giving up!" the protesters chanted as they made their way through the streets of São Paolo, carrying signs that with phrases such as, "Fascist pig," "Neo-Nazis No!", and "Not Him."
"We do recognize the result of the elections … Bolsonaro has now been elected president of Brazil," declared Guilherme Boulos, a prominent leftist leader. "But not Brazil's emperor – not the owner of Brazil. He doesn't own us."
"A president has to respect democratic freedoms," he continued. "A president has to respect the freedom of protest, the freedom of expression. He has to respect opposition and not say that they go either to jail or into exile."
Very powerful moment at last night's march in São Paulo as @GuilhermeBoulos & thousands of protesters kicked off their anti-Bolsonaro resistance movement with chants of: "No one is giving up!" "Ninguém vai se render!" #ninguemSoltaAmaodeninguem pic.twitter.com/J3UlHVhpNm

— Tom Phillips (@tomphillipsin) October 31, 2018
Protesters also complained about their fear of a rollback in their progressive freedoms, citing Bolsonaro's well-known strict Christian Evangelism and socially conservative views. Many held signs and attacked him over what they claim are his racist, misogynist, and homophobic views.
According to O Globo, a group of hooded demonstrators remained in Roosevelt Square in central São Paulo after most of the protesters had already left. After violent confrontations broke out, riot police were forced to control the situation with tear gas and rubber bullets. There is currently no information available about potential injuries.
Similar protests also took place in cities such as Rio de Janeiro, Porto Alegre, and Recife, causing blockages and traffic jams, although there were no reports of violent confrontations.
Students challenge president-elect #Bolsonaro at protest in #Rio de Janeiro pic.twitter.com/YsqMMs32Xl

— Ruptly (@Ruptly) October 31, 2018
Although widely expected, Bolsonaro's victory has come as a major upset to Brazil's leftist establishment, who have governed the country since 2003. His campaign, which focused on law and order and crackdown on corruption, captured the imagination of many Brazilians frustrated with soaring levels of crime and the corruption scandals that have rocked the country's political system.
Former President Luiz Inácio Lula Da Silva, who is currently serving a 12-year prison sentence for taking over $1 million in bribes under the "Operation Car Wash" corruption scandal, has urged leftists to stay calm and form a united democratic front against Bolsonaro's leadership, which he has described as Brazil's "fascist adventure."
Follow Ben Kew on Facebook, Twitter at @ben_kew, or email him at bkew@breitbart.com.
http://feedproxy.google.com/~r/breitbart/~3/w5lZ4OOn6rQ/