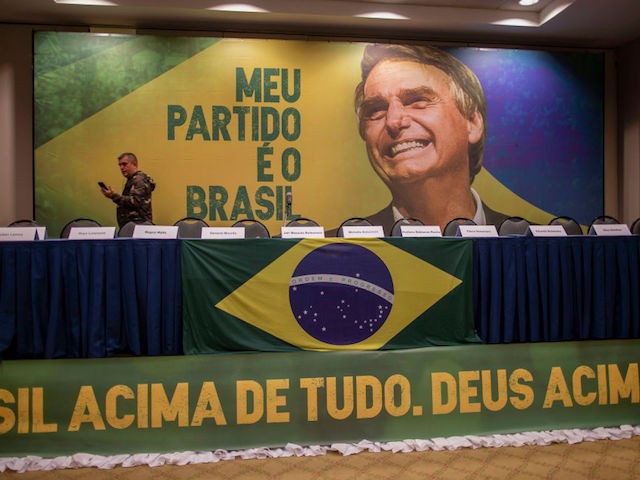 Conservative candidate Jair Bolsonaro won the first round of Brazil's presidential election Sunday, securing the top spot against socialist Fernando Haddad in a run-off race scheduled for October 28.
Bolsonaro, representing the right-wing Social Liberal Party (PSL), almost secured the 50 percent of the vote necessary to become president without a second election. With 98 percent of precincts reporting, O Globo reports that Bolsonaro received 46.43 percent of the vote, about 49 million votes. Haddad of the socialist Workers' Party (PT) came in second with 28.73 percent of the vote, or slightly over 30 million votes, at press time. Final tallies are subject to change as the final precincts report their votes.
Bolsonaro outperformed the latest polls taken late last week. A poll by the firm Datafolha found 39 percent of voters saying they would vote for Bolsonaro. Haddad also appeared to pick up some voters, having received 25 percent of respondents' support in that latest poll.
Datafolha found, as another poll by the firm Ibope did last week, that Haddad and Bolsonaro would be in a statistical tie in a run-off election.
Bolsonaro released a short video Sunday night thanking Brazilians and urging them to maintain their enthusiasm for his campaign through the run-off election.
"The second round won't be easy," he told them, promising to "diminish the size and power of the state."
"I am very thankful to those who voted for me, together we will construct our Brazil, God willing," he concluded.
Bolsonaro fala ao Brasil. Estamos no segundo turno! https://t.co/CsW9Peo0dg

— Jair Bolsonaro 1️⃣7️⃣ (@jairbolsonaro) October 8, 2018
Bolsonaro's supporters maintained a festive climate outside the candidate's house and throughout the country in major rallies, singing the national anthem.
Bolsonaro supporters singing Brazil's national anthem outside his house. pic.twitter.com/zgQlxph8PL

— Dom Phillips (@domphillips) October 7, 2018
Rally in front of Bolsonaro's home has grown, lotta energy, very celebratory. People even doing push-ups in the street. #Brazil pic.twitter.com/tS9AoUZ9uX

— David Biller (@DLBiller) October 7, 2018
Bolsonaro supporters singing national anthem seconds before first exit poll results pic.twitter.com/ejOnsQUZ5j

— David Biller (@DLBiller) October 7, 2018
Brazilian commentators noted last week that both candidates have high disapproval ratings. As of last week, Datafolha found Bolsonaro's disapproval at 45 percent and Haddad's 40 percent. Their task by October 28 will be to amass as much support as possible from among voters who supported the losing candidates in Sunday's race, playing upon each other's high disapproval ratings, as an overwhelming majority (over 80 percent) of supporters of either candidate said they were not interested in switching the vote.
Sunday's election showed that Bolsonaro's campaign, which focused on combatting corruption in Brazilian politics and undoing the socialist policies previous PT presidents put in place throughout most of the 21st century, hit a nerve among the Brazilian population. O Globo notes that Bolsonaro appears to have significant coattails; conservative candidates nationwide are beating left-wing opponents in congressional and gubernatorial elections. Of particular note is the election for governor of Rio de Janeiro, where relatively unknown former judge Wilson Witzel appears to be winning against former governor Eduardo Paes. Bolsonaro personally endorsed Witzel before his surge in support.
In Sao Paulo, Eduardo Bolsonaro, the presidential candidate's son, was elected to represent Sao Paulo in the Chamber of Deputies with more votes than anyone in the history of that race. The fourth winningest candidate for the Sao Paulo congressional seat, a former clown named "Tiririca" ("Grumpy"), was also elected to serve alongside Bolsonaro after quitting Congress in disgust in March.
Eduardo Bolsonaro saw an increase in support between this campaign and his last run for the seat of 2,030 percent, according to O Globo.
Conversely, socialist candidates appear on the downswing. Perhaps the loudest rejection of the socialist PT occurred in Minas Gerais state, where Dilma Rousseff, the impeached former president of the country, lost her race for Senate. Minas Gerais is the state where Bolsonaro was nearly stabbed to death in early September, the victim of a violent socialist who told police he was ordered by God to kill the candidate.
Rousseff's predecessor, Luiz Inácio Lula da Silva, watched the election results from prison, where he clocked in six months of his 12-year sentence for taking over $1 million in bribes as president.
Lula became one of the defining characters of this year's election and, according to most polls, was the frontrunner for months before being sentenced to serve over a decade. He used this status as an excuse to refuse to let the PT pick another candidate for president, even though the sentence banned him from running for office indefinitely. He finally stepped aside in mid-September, giving Haddad little time to campaign.
The outrageous corrupt of the PT era – which police cataloged in an extensive nationwide investigation known as "Operation Car Wash" – became a key talking point of the Bolsonaro campaign, channeling the anger that brought millions of Brazilians out on the streets to demand Rousseff's ouster in 2016.
Brazilian newspaper Folha de Sao Paulo described Sunday's election as "the biggest convulsion to shake the social fabric of Brazil since redemocratization," which occurred after the fall of the military dictatorship in 1985. Whether or not Bolsonaro wins the presidency, the newspaper asserted, "message received."
"The economic and political debacle of the government of Dilma Rousseff (PT)" and "the moral climate around Operation Car Wash" were to blame for the shift rightward, Folha asserted.
Follow Frances Martel on Facebook and Twitter.
http://feedproxy.google.com/~r/breitbart/~3/ddnnrJr_Vw4/