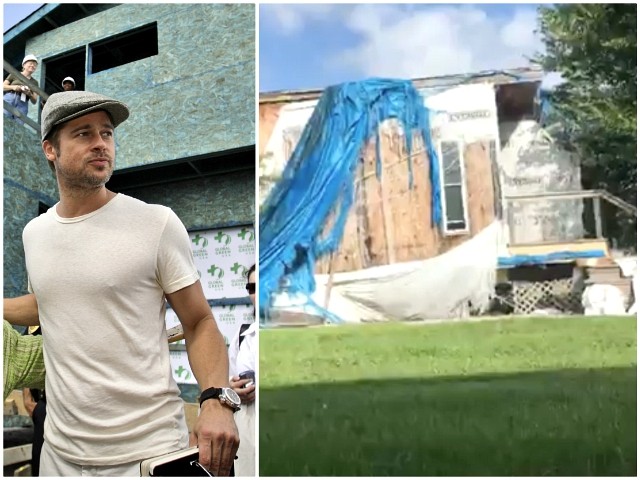 Actor Brad Pitt says he is not responsible for faulty homes built and sold by his Make It Right charity to victims of Hurricane Katrina.
In April of 2006, some eight months after the flooding of the Ninth Ward in the city of New Orleans, Brad Pitt and Make It Right rode on a white horse promising low-cost housing for the homeless that would also be eco-friendly. By 2016, Pitt reported that his charity had constructed some 109 homes for $27 million.
According to NBC News, though, a majority of those homes are now vacant.
Design flaws coupled with the choice of "environmentally friendly" materials over standard building material, have resulted in "mold and collapsing structures, electrical fires and gas leaks." Homeowners claim "the houses were built too quickly, with low-quality materials, and that the designs didn't take into account New Orleans' humid, rainy climate."
Earlier this year, a class action suit was filed against the actor and Make It Right.
On Monday, according to the Blast, Pitt filed paperwork "demanding" the lawsuit against him be tossed out.
Pitt says Make It Right was founded, "with the mission of building high-performance, sustainably-designed homes to be sold at affordable prices to residents of the Lower Ninth Ward, following the devastation of Hurricane Katrina."

The star says he had no duty personally to the homeowners and did not breach any deal with them. Translation: "I'm an actor, not a construction worker."

Pitt points out that the plaintiffs have previously praised him for leading the charge on building the homes, and specifically mentioned "that they are extremely grateful to Mr. Pitt for his efforts in helping to rebuild the Lower Ninth Ward."

The court docs state, "Mr. Pitt cannot simply be lumped together with other defendants and held liable for alleged conduct in which he is not even alleged to have participated."
While Pitt is claiming he is not personally responsible, he is not saying the same about Make It Right, where he serves as director.
A new wrinkle in this story is that the class-action suit alleges bad faith. Until now, it was assumed honest mistakes were made in a misguided effort to do a good thing. According to the lawsuit, though, homeowners are accusing "the foundation of knowing of multiple issues with the building materials used, but not informing the buyers."
While Pitt obviously does not want to be sued, the New York Post reported in August that Pitt had already spent million of his own dollars to fix the homes.
Follow John Nolte on Twitter @NolteNC. Follow his Facebook Page here.
http://feedproxy.google.com/~r/breitbart/~3/dyrIRDzxd0w/