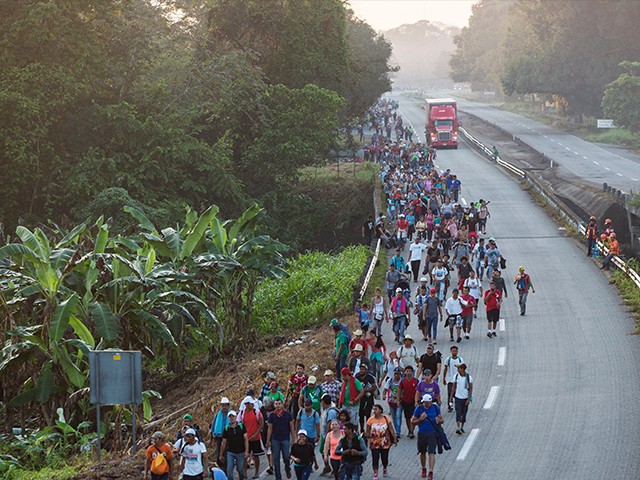 Pro-migration advocates claim the midterm election results show that voters oppose President's Donald Trump's immigration policies, and pro-reform advocates say GOP candidates won by backing Trump's pro-American policies.
Todd Schulte, director of the Mark Zuckerberg's pro-amnesty, cheap-labor group, FWD.us, claimed:
Just a stunning, massive suburban rejection of an immigration stunt in the last few weeks by voters who see this Admin's immigration agenda as defined by family separation and daca repeal, not a successful effort to stoke fear around a caravan still 800 miles away.

— Todd Schulte (@TheToddSchulte) November 7, 2018
Schulte's group is funded by wealthy investors who want more imported cheap-labor and more imported customers.  He cheered Rep. Dave Brat's defeat after his Virginia district was redesigned to add more Democratic voters. The gloating was personal, partly because Brat's 2014 primary win torpedoed Zuckerberg's push for the "Gang of Eight" amnesty.
DOWN GOES BRAT!

6102014-1162018

— Todd Schulte (@TheToddSchulte) November 7, 2018
Schulte also cheered at the defeat of Kansas gubernatorial candidate, Kris Kobach:
Kobach, Brat and Bartletta – the three closest allies of Numbers USA, FAIR and John Tanton ALL go down.

— Todd Schulte (@TheToddSchulte) November 7, 2018
Brat's loss was also cheered by Brian Walsh, an establishment GOP activist and one of Schulte's allies:
Good news for Republicans is that this is the type of seat that can be flipped back in two years with a good candidate – i.e. someone not like Dave Brat. https://t.co/oAfuizg96n

— Brian Walsh (@brianjameswalsh) November 7, 2018
Nick Gourevitch, a Democratic pollster, argued that the anti-illegal-immigration ads by the GOP's business-first donors backfired:
The race-baiting, anti-immigrant, caravan strategy is looking like a huge fail in the House. CLF & NRCC ran nasty ads against Davids, Kirkpatrick, Delgado, Brindisi, Spanberger, Finkenauer, Axne. All Dem wins.

— Nick Gourevitch (@nickgourevitch) November 7, 2018
But the business-funded ads focused on illegal immigration — not on the cheap-labor migration which cuts Americans wages and raises their housing costs.
Journalists quickly argued that local defeats — such as the Kobach's gubernatorial defeat in Kansas — trumps President Trump's use of immigration reforms to spur GOP turnout nationwide and to win several Senate seats:
Kobach going down is a big blow to the argument that hardline immigration rhetoric sells nationwide.

— Tal Kopan (@TalKopan) November 7, 2018
Walsh echoed Kopan's claim:
Exactly. Add in Barletta and Corey Stewart with him. They represent the wrong direction for the GOP. https://t.co/6kJHTJOQ6Q

— Brian Walsh (@brianjameswalsh) November 7, 2018
Unfortunately for Schulte and Walsh, many of the defeated GOP legislators agreed that immigration policy should serve the needs of business, not the needs of Americans' for decent wages. They defeat GOP members included Kansas Rep. Kevin Yoder, Texas Rep. Pete Sessions, Florida Rep. Chris Curbelo, New York Rep. John Faso, New Jersey Rep. Leonard Lance, and Virginia Rep. Barbara Comstock.
Walsh noted some of the losses among business-first GOP legislators. He Tweeted;
Coffman, Curbelo & Comstock have been really good Members of Congress and hard workers for their districts. It's a shame to see them lose because Republicans need more folks like them in Congress.

— Brian Walsh (@brianjameswalsh) November 7, 2018
Pro-American reformers, however, say GOP candidates won many races by echoing Trump's "Hire American" low-immigration, high-wage economic policy:
Tenn. Sen. victor Marsha Blackburn is an A+ career immigration voter in the House replacing a C+ career Sen. Corker who championed the giant Gang of 8 amnesty & foreign worker increases. https://t.co/cRcBy08PdK

— Roy Beck (@RoyBeck_NUSA) November 7, 2018
With disappointing immigration record, Sen. Donnelly (D-IN) loses to Mike Braun who ran as NumbersUSA "True Reformer" on all 12 pro-worker categories. https://t.co/I0K55TiDid

— Roy Beck (@RoyBeck_NUSA) November 7, 2018
3 Dem. Senators who earned F-grades from NumbersUSA for consistently supporting more foreign workers and less immigration enforcement lost re-election to challengers who pledged a much different approach: Heitkamp (ND), McCaskill (MO), Nelson (FL) https://t.co/H2QpFJBBFp

— Roy Beck (@RoyBeck_NUSA) November 7, 2018
In KY06 Toss-Up race, Rep. Barr wins with record of usually acting for fewer foreign workers through chain migration & more enforcement. Opponent was basically silent on immigration issues. https://t.co/v4LMnpSlsS

— Roy Beck (@RoyBeck_NUSA) November 7, 2018
The GOP's successful pro-American candidates include new Sen. Josh Hawley in Missouri. Most of the losing Democrats — including Indiana Sen. Joe Donnelly — backed the 2013 "Gang of Eight" amnesty bill in the Senate, and oppose Trump's "Four Pillars" reforms in the February 2018 Senate debate.
In Texas, Sen. Ted Cruz beat Beto O'Rourke with a large share of the Latino vote — of perhaps 36 percent — partly because many middle-class Americans with Latino heritage fear large-scale migration:
Texas: @CNNPolitics exit polls show Beto taking only 63% of the Latino vote vs. 36% for Cruz. Not enough to win.

— Roberto Suro (@roberto_suro) November 7, 2018
Overall, Washington's economic policy of using migration to boost economic growth shifts wealth from young people towards older people by flooding the market with cheap white-collar and blue-collar foreign labor. That flood of outside labor spikes profits and Wall Street values by cutting salaries for manual and skilled labor offered by blue-collar and white-collar employees.
http://feedproxy.google.com/~r/breitbart/~3/h-M6-ukkaTo/