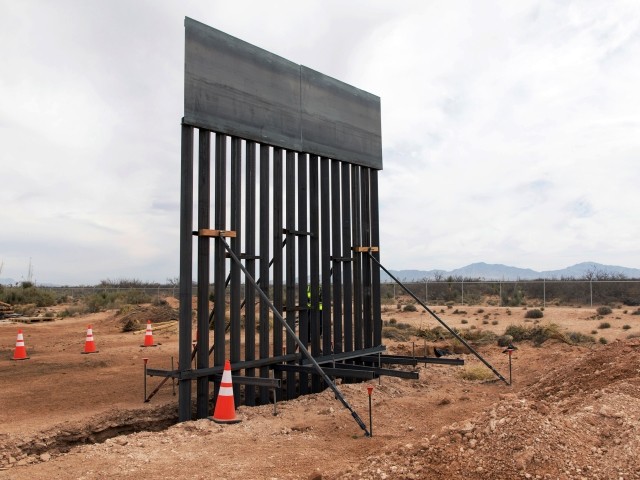 Border Patrol officials in the El Paso Sector announced that construction of a new section of border wall began on Saturday. The new four-mile section of road will replace existing fencing near downtown El Paso.
"This new wall will be far more durable and far more effective in deterring would-be illegal entrants," El Paso Sector Chief Patrol Agent Aaron A. Hull said in a statement obtained by Breitbart Texas. Chief Hull said crews will build a "bollard-style" design that will make the barrier more durable and harder to breach.
West Point Contractors from Tucson, Arizona, won the contract to build this newest section of international border barrier for U.S. Customs and Border Protection. The new wall will begin just west of the Paso Del Norte international bridge and extend about four miles to the east. Plans include removing the existing fencing and replacing it with an 18-foot high bollard wall. The project is expected to cost about $22 million and will be completed in late April 2019, officials stated.
A crucial feature of the bollard-style wall is the ability for Border Patrol agents to see through the wall. "The bollard design wall has proved beneficial to the Border Patrol to detect illegal entries and the smuggling of narcotics into the United States by providing situational awareness of activity south of the wall," officials stated.
"U.S. Border Patrol agents are the most frequently assaulted and most frequently injured federal law enforcement officers," Hull stated. "We've seen time and time again that the addition of serious infrastructure creates a safer environment for our people to operate. It also creates a safer community on both sides of the border."
El Paso Sector agents have been assaulted 54 times so far this fiscal year, officials reported.
"It's going to be harder to get over, harder to get through, harder to get underneath," Hull explained. "It's going to have a five-foot scaling plate at the top which will make it very tough for entrance — even if you can get to the top, to get over the top. It will deter all but the most determined of illegal entrants from entering the United States here."
"It's going to make it harder to cross for illegal aliens," the chief continued. "It's going to make it harder for smugglers and border criminals to move freely between the two countries as they can now."
Hull said it will enable his sector to make more efficient use of its agents in this area and in other areas of the El Paso Sector.
The El Paso Sector continues to experience a high number of illegal border crossings and apprehensions of illegal aliens. The August Southwest Border Migration Report revealed that El Paso Sector agents apprehended a total of 3,587 illegal aliens — including 1,884 Family Unit Aliens and 529 Unaccompanied Alien Children. In year-to-date numbers, the El Paso Sector reports a 16 percent increase in family units and 35 percent increase in unaccompanied minors.
At least five illegal aliens have lost their lives during attempts to illegaly enter the U.S. this year, according to the Missing Migrant Project.
The El Paso Sector wall is being built under the authority of President Donald Trump's Executive Order 13767.
Bob Price serves as associate editor and senior political news contributor for Breitbart Texas. He is a founding member of the Breitbart Texas team. Follow him on Twitter @BobPriceBBTX and Facebook.
http://feedproxy.google.com/~r/breitbart/~3/vgTw-OKG6Kc/