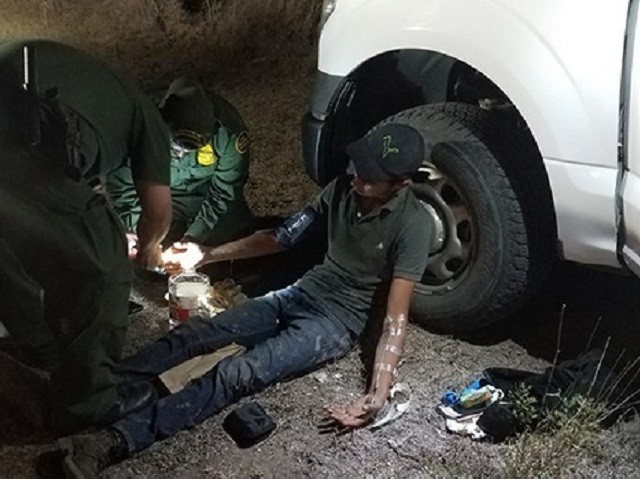 U.S. Border Patrol agents assigned to the Laredo Sector rescued a migrant who said he had been lost on a ranch for nine days without food or water.
Cotulla Border Patrol Station agents received information from the Laredo Dispatch center about a 911 call regarding a lost migrant. Utilizing GPS coordinates from the migrant's cell phone, the agents launched a search that included a U.S. Customs and Border Protection helicopter aircrew.
The search resulted in a successful rescue of the lost migrant. Agents found the man on a ranch and identified him as a 33-year-old illegal immigrant from Mexico. A Border Patrol agent trained for emergency medicine evaluated and treated him for dehydration.
The migrant claimed to have been without food or water for nine days and said he finally resorted to calling 911 for assistance.
The Laredo Sector operates an immigration checkpoint on Interstate 35. Often, smugglers will drop off migrants south of the checkpoint and have them march around to a pickup area north of the stop.
Laredo Sector officials frequently conduct search and rescue operations for migrants who become lost after being abandoned by their cartel-connected human smugglers, Breitbart Texas reported.
Unfortunately, in many cases the calls for help never come or rescue attempts fail as migrants continue to die along the U.S.-Mexico Border. This year, at least 292 migrants died during or following attempts to illegally cross the U.S. border from Mexico, according to the Missing Migrant Project. More than 180 of those deaths occurred in Texas.
Year-to-date numbers from the report show an increase in deaths of more than seven percent from the previous year. At least 272 died in 2017 and an additional 304 in 2016, the report states.
Officials previously told Breitbart Texas that human smugglers do not care about the lives of what they regard as "human cargo." If a migrant becomes weak, dehydrated, injured, or otherwise cannot keep up with the group, the smugglers will simply abandon them to die.
Bob Price serves as associate editor and senior political news contributor for Breitbart Texas. He is a founding member of the Breitbart Texas team. Follow him on Twitter @BobPriceBBTX and Facebook.
http://feedproxy.google.com/~r/breitbart/~3/a2bOBxxDE_A/