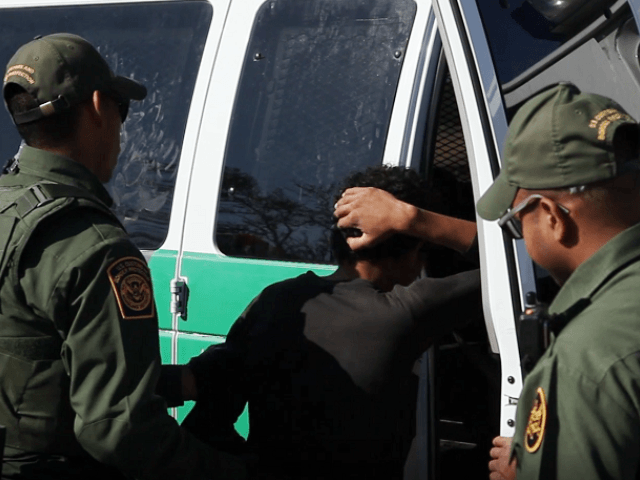 Tucson Sector Border Patrol agents arrested an armed man for allegedly smuggling five illegal aliens after he attempted to flee.
Agents assigned to the Wilcox Border Patrol station attempted to stop a Jeep Wrangler for an immigration inspection on Thursday. The driver refused to stop for the agent's emergency lights and sped away leading to a pursuit, according to information obtained by Breitbart Borders/Cartel Chronicles from Tucson Sector Border Patrol officials.
The agents pursued the driver for a few miles before he eventually pulled over and stopped. The agents observed five people packed into the Jeep. An immigration interview revealed the five people to be Mexican nationals without legal authorization to be in the United States, officials stated.
During a search of the vehicle, agents found a loaded .45 caliber pistol under the driver's seat.
The agents arrested the 22-year-old U.S. citizen driver for human smuggling and seized his firearm and vehicle.
Agents reported that the illegal aliens ranged in age from 15 to 28 and came to the U.S. from Mexico.
One day earlier, Yuma Sector Border Patrol agents assigned to the Welton Station stopped another human smuggling event where a U.S. citizen allegedly transported seven illegal aliens in a Ford E350. The agents conducted a traffic stop near Dome Valley and found seven Mexican nationals in the vehicle.
The agents arrested the 36-year-old driver and charged him with transporting and harboring illegal aliens. The agents arrested the seven migrants for immigration violations.
"This interdiction highlights our need to maintain a strong enforcement posture in Dome Valley, which is the main bypass route for the 1155 Immigration Checkpoint.  The adversary routinely attempts to mimic legitimate traffic in this area, but our vigilant agents are trained to perceive indications of illicit behavior," Wellton Station's Patrol Agent in Charge Kevin Villegas said in a written statement.
Bob Price serves as associate editor and senior political news contributor for Breitbart Border/Cartel Chronicles. He is a founding member of the Breitbart Texas team. Follow him on Twitter @BobPriceBBTX and Facebook.
http://feedproxy.google.com/~r/breitbart/~3/uFCpcJOpvf0/