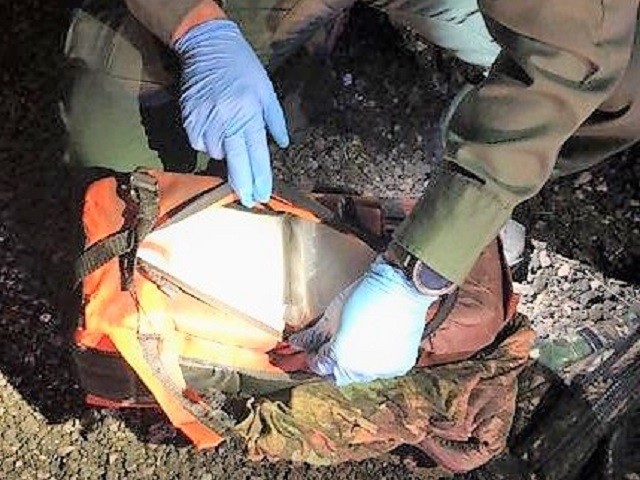 Yuma Sector Border Patrol agents seized more than $90,000 in "crystal" meth and arrested four illegal immigrants during a traffic stop on Wednesday.
Agents assigned to the Welton Station patrolling near the Interstate 8 immigration checkpoint observed four people walking out of the desert and getting into a gray 2009 Nissan Altima. The vehicle began driving eastbound, according to Yuma Sector Border Patrol officials.
The agents conducted a traffic stop and questioned the driver, a 25-year-old U.S. citizen from Mesa, Arizona. Agents identified the four passengers as illegal immigrants from Mexico, officials stated. The agents also observed two backpacks inside the sedan.
The agents reportedly found 30.4 pounds of crystal methamphetamine. Officials estimated the street value at $91,200.
The agents arrested the driver and all four illegal immigrants on charges relating to trafficking controlled substances. The migrants will also be processed for immigration violations, officials reported.
Also on Wednesday, U.S. Customs and Border Protection (CBP) officers arrested a Mexican national who allegedly attempted to smuggle 170 packages of methamphetamine through the Port of Lukeville.
CBP officers observed a Ford SUV approaching the international port of entry. During an initial interview, a CBP K-9 officer alerted to the possible presence of drugs in the vehicle. Officers referred the driver to a secondary inspection station where they discovered 170 packages containing more than 190 pounds of the illicit drug. Officials estimated the value of the shipment at more than $570,000.
CBP officials reported that the officers arrested the Mexican national from Coborca, Sonora, and seized the vehicle and drugs. All were turned over to Drug Enforcement Administration agents for investigation and prosecution.
Bob Price serves as associate editor and senior political news contributor for Breitbart Border/Cartel Chronicles. He is a founding member of the Breitbart Texas team. Follow him on Twitter @BobPriceBBTX and Facebook.
http://feedproxy.google.com/~r/breitbart/~3/E30Ir4Oflaw/