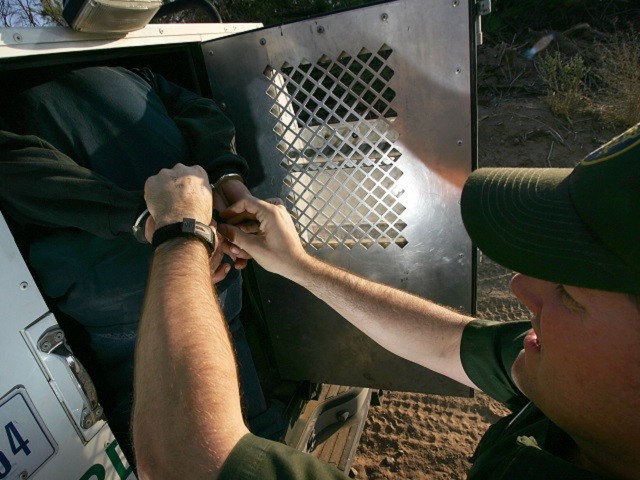 A Rio Grande Valley Sector Border Patrol agent came under attack from an illegal alien during arrest attempt.
Agents assigned to the Rio Grande City Station came upon a group of illegal immigrants near Escobares, Texas. As the agents attempted to take the migrants into custody, one threw a cell phone at one of the agents. The phone struck the agent in the forehead causing a laceration, according to Rio Grande Valley Sector Border Patrol officials.
The illegal alien who allegedly assaulted the Border Patrol agent jumped back into the Rio Grande River and swam to Mexico, officials stated.
The injured agent traveled to a local hospital where doctors treated him for the laceration to his forehead.
The remaining agents transported the migrants to the Rio Grande City Border Patrol Station for processing under sector guidelines. Officials did not disclose how many migrants were arrested or any demographic information about them.
Border Patrol agents remain among the most assaulted of all federal law enforcement officers, officials previously stated.
As of the most recent report on the number of agents assaulted, August 2018, 619 Border Patrol agents came under attack in the line of duty. That number is actually lower than the same period in FY2017 when migrants attacked 675 Border Patrol agents.
The official report on assaults on Border Patrol agents has not been updated by U.S. Customs and Border Protection officials since the August 2018 report. Officials have not responded to requests for updated information on the number of assaults.
Since that time, Breitbart News reported on the assaults against at least nine Border Patrol agents. In one report, three Border Patrol agents were assaulted during a five-day period. In another report, a five-time deported criminal alien pulled a gun on a border patrol agent. The agents managed to subdue the illegal alien without the use of deadly force.
Bob Price serves as associate editor and senior political news contributor for Breitbart Border/Cartel Chronicles. He is a founding member of the Breitbart Texas team. Follow him on Twitter @BobPriceBBTX and Facebook.
http://feedproxy.google.com/~r/breitbart/~3/VLozfS4LEcA/