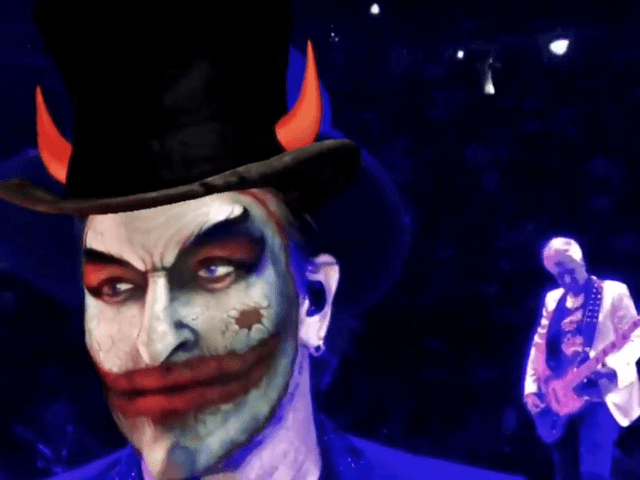 Paul 'Bono' Hewson, through his demonic alter ego 'MacPhisto', compared European populist leaders who oppose open borders to the devil at a concert in Milan, Italy.
With a computer-generated demon's mask on his face, projected onto a large screen at the Mediolanum Forum in Milan, Bono told the audience: "My people [devils] are arriving all over Europe" — but he was not referring to illegal migrants or jihadists.
#SJW celebrity #Bono from #U2 preaching again..

This time at a concert in Milan.

Dressed as the devil he says:

"My people are all over Europe. They go by many names. In Sweden they call themselves democrats, in Poland.. even I can't pronounce it. Here in #Italy it's #Salvini" pic.twitter.com/VEZrplYA1w

— BasedPoland (@BasedPoland) October 19, 2018
"They go by many names, my people," he explained.
"In Sweden they call themselves Democrats, Swedish Democrats.
"In France, they keep changing their names," referring to the Marine Le Pen-fronted National Rally, previously called Front National.
"In Poland they have names I cannot even pronounce. In Hungary, well there they are hungry for me.
"In Italy, well you have a few to choose from, don't you? My hot tip is Matteo Salvini.
"Remember they have many names but they always have the same face. Mine," Bono — or 'MacPhisto' — added.
MacPhisto points out that he loves trouble in paradise. And why not? He started it, after all….#fiendsofmacphisto #U2eiTour #U2 #whenyoudontbelieveiexist pic.twitter.com/ypb2nRd7Eg

— U2 (@U2) October 12, 2018
This is not the first time the open borders backing europhile has touted for the anti-populist movement during his European tour.
While meeting with the European Union's top bureaucrats last week, the Irish multi-millionaire said that it was an artist's duty to romanticise the bloc, adding that if Europe and Africa united, they could "take over the world".
His band starts the British leg of its Experience + Innocence tour in Manchester, England, where the 58-year-old is likely to express his opinions on the Brexit negotiations over the border between the Republic of Ireland, an EU member-state, and the British province of Northern Ireland, as the United Kingdom prepares to leave the bloc.
The Irish Times described how "The band have revamped the tour for its European leg, so it now opens with images of the continent in ruins after the Second World War and ends with the group playing in front of the EU flag, making a plea for tolerance and unity."
Admitting that the band's British audience reception to the show's theme may be split, Bono said: "I think it's a beautiful, romantic concept, Europe, but it's ended up as a cold concept for a lot of people. You just think about the bureaucracy in Brussels, which is why I guess a lot of people in the UK wanted to leave."
Bono: Make EU More Romantic Through Music, Praises 'Incredible' Africa-Europe Partnership https://t.co/pASbvUn9RU

— Breitbart London (@BreitbartLondon) October 10, 2018
Follow Breitbart London on Facebook:

 Breitbart London
http://feedproxy.google.com/~r/breitbart/~3/QobM6WcxAj4/