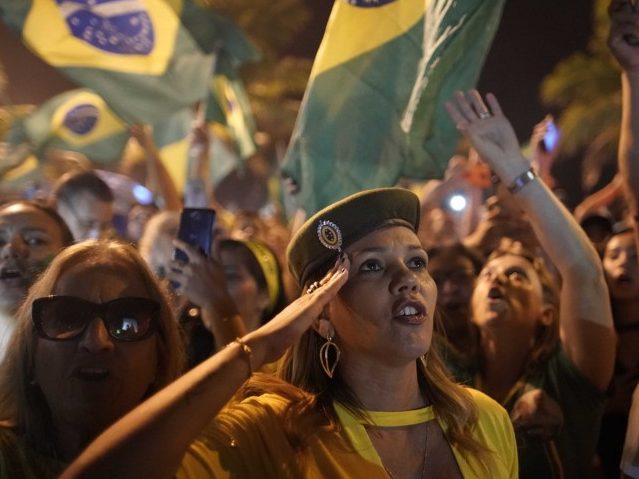 Supporters of Brazil's president-elect Jair Bolsonaro mocked supporters of socialist rival Fernando Haddad on Sunday evening, urging them to move to Cuba if they prefer a leftist government.
On Sunday evening, the 63-year-old former army captain romped to victory over socialist candidate Fernando Haddad with around 55 percent of the vote, to the dismay of progressives not just in Brazil but around the world.
Thousands of people poured into the streets of Brazil's major cities to celebrate Bolsonaro's victory, with many people shouting insults at the defeat Fernando Haddad's Workers Party (PT) and his leftist supporters. According to local media, supporters began chanting things such as "Don't cry, Workers Party," "Go back to Cuba, the one that birthed you," and "Oh Oh Bolsonaro."
At one point, the crowd raised an inflatable doll of the country's former socialist leader, Luiz Inácio Lula da Silva, wearing a prison jumpsuit, popularized in the 2016 protests against the PT. The Lula doll is formally known as a pixuleco. Lula is currently serving a 12-year prison sentence for his involvement in the "Operation Car Wash" corruption scandal.
Under the administration of Lula and the former President Dilma Rousseff, the Brazilian government developed close ties with the Castro and Chávez regimes in Cuba and Venezuela, a reality that proved an effective campaign tactic for Bolsonaro, who warned of Brazil facing a similar situation to those countries.
Sunday evening also saw clashes between pro- and anti-Bolsonaro demonstrators across Brazil. Police in São Paulo and Salvador were forced to break up confrontations with the use of rubber bullets and tear gas.
During his victory speech Sunday, Bolsonaro said would govern for "all Brazilians" and would lead an administration that protected citizens who "follow their duties and respect the laws."
"We cannot continue flirting with socialism, communism, populism and the extremism of the left," he declared. "The laws are for everyone, this is how it will be during our constitutional and democratic government."
Bolsonaro's socialist opponents have pledged to take to the streets on Tuesday in force to express their opposition to his election. Many are fearful he will roll back the legislative accomplishments of former administrations with new policies such as the expansion of the military, cracking down on crime, expanding gun rights, pulling Brazil out of the Paris Climate Agreement, and blocking all attempts to legalize abortion.
Bolsonaro will fly to Brasilia on Tuesday to begin the transition process with outgoing President Michel Temer, which will culminate with his swearing-in on January 1st, 2019.
Follow Ben Kew on Facebook, Twitter at @ben_kew, or email him at bkew@breitbart.com.
http://feedproxy.google.com/~r/breitbart/~3/V_MwmA-YRrg/