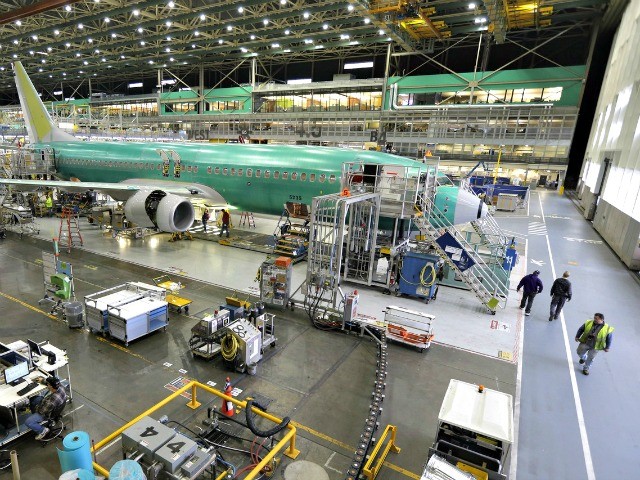 Boeing, the second biggest beneficiary of United States Defense Department government contracts, is creating 3,000 jobs in India after profiting more than $1 billion from the GOP-passed tax cuts.
As Breitbart News reported, Boeing announced this week that it would be building their second largest manufacturing facility in Bengaluru, India — not the U.S. That manufacturing plant is expected to generate 3,000 high-paying jobs that could have gone to American workers if the facility was being built in this country.
Profiting from U.S. Government Contracts: Boeing to Begin Manufacturing in Indiahttps://t.co/rVaUpowEWk

— John Binder 👽 (@JxhnBinder) October 3, 2018
Boeing's decision to outsource manufacturing to India comes after it has profited greatly from President Trump's administration's increasing of Defense Department spending — rewarding the corporation with likely billions in new government contracts — and the Republican-passed tax cuts.
Earlier this year, Boeing announced that the GOP tax cuts saved the corporation about $1.1 billion — this after years of already paying relatively low taxes to begin with at an average federal tax rate of less than ninw percent over ten years.
At the same time, Boeing has been routinely laying off thousands of American workers every year. Since 2013, Boeing has laid off nearly 13,000 American workers at its U.S.-based manufacturing plants with more than 6,000 layoffs in 2017, alone.
While the multinational corporation expands its manufacturing in India, the manufacturer's top five executives are all earning salaries no less than $7 million a year. Boeing CEO Dennis Muilenburg made close to $17 million in 2017, while Chief Executive Officer Gregory Smith took in roughly $17 million last year as well.
John Binder is a reporter for Breitbart News. Follow him on Twitter at @JxhnBinder.
http://feedproxy.google.com/~r/breitbart/~3/F2kG5N6Wzqo/