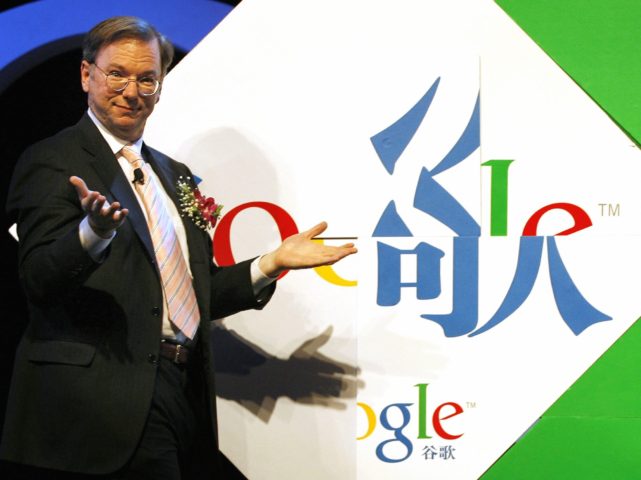 A bipartisan group of congressmen has demanded answers from Google over the development of a censored search engine for China in cooperation with the strict Chinese communist government.
16 members of the House, including Rep. David Cicilline (D-RI) who led them, signed an open letter to Google CEO Sundar Pichai expressing "serious concerns" over Google's compliance with the Chinese government on the project, and asking whether the project could lead to surveillance of Americans living in China.
"We write to share our serious concerns about reports that Google is planning to re-enter the Chinese market with an app-based search engine that will comply with the Chinese government's strict censorship and restrictions on free speech," declared the letter. "As policymakers, we have a responsibility to ensure that American companies are not perpetuating human rights abuses abroad, and to ensure that our regulatory and statutory systems are able to deal with changing business environments."
NEW: Google should not be helping China crack down on free speech and political dissent. I just sent this letter with some of my Republican and Democratic colleagues raising our serious concerns and questions about what they're doing. pic.twitter.com/fZ0wlabzS7

— David Cicilline (@davidcicilline) September 13, 2018
The congressmen then asked Pichai to answer 5 questions, including, "Is Google taking steps to ensure that individual Chinese citizens, or foreigners living in China, including Americans, will not be surveilled or targeted through Google applications or products?"
The letter was signed by Rep. David Cicilline (D-RI), Rep. Michael McCaul (R-TX), Rep. Eliot Engel (D-NY), Rep. Francis Rooney (R-FL), Rep. Mark DeSaulnier (D-CA), Rep. Mike Coffman (R-CO), Rep. Anna Eshoo (D-CA), Rep. Dana Rohrabacher (R-CA), Rep. Alcee Hastings (D-FL), Rep. Pramila Jayapal (D-WA), Rep. Ted Lieu (D-CA), Rep. Alan Lowenthal (D-CA), Rep. Jamie Raskin (D-MD), Rep. Jan Schakowsky (D-IL), Rep. Albio Sires (D-NJ), and Rep. Jim McGovern (D-MA).
This week, a senior Google scientist quit the company in protest over the project, declaring he had left to "avoid contributing to" the "erosion of protection for dissidents."
The scientist also claimed to be shocked by the fact that only a few other Google employees also resigned in protest.
"It's incredible how little solidarity there is on this," he declared. "It is my understanding that when you have a serious ethical disagreement with an issue, your proper course of action is to resign."
According to reports, Google's upcoming censored search engine "will blacklist access to certain websites and restrict search terms related to human rights, democracy, religion, and peaceful protest," in China.
Those working on the project were ordered to "keep quiet about it," and "deflect questions," while over a dozen human rights groups have condemned Google.
http://feedproxy.google.com/~r/breitbart/~3/QqGqJA5edVQ/