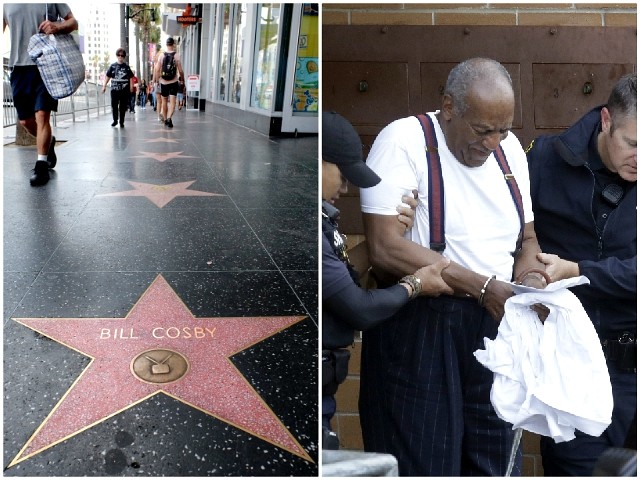 The Hollywood Walk of Fame Star of disgraced comedian Bill Cosby is not facing removal, according to Hollywood Chamber of Commerce.
Cosby, labeled a "sexually violent predator" Tuesday, was sentenced to three to ten years in prison for sexually assaulting a woman in 2004. The charges come after Cosby was found guilty of drugging and sexually assaulting ex-Temple University women's basketball coach Andrea Constand over a decade ago.
"The stars only commemorate the recipient's professional accomplishments," the Hollywood Chamber of Commerce said in a statement to CBS. "It is regrettable when the personal lives of inductees do not measure up to public standards and expectations."
The 81-year-old's star was defaced in 2014 with the word "rapist" written on it three times.
"Rapist" is scribbled all over Bill Cosby's Hollywood Walk of Fame star http://t.co/Sj24KSan4z pic.twitter.com/8rc01o9i60

— Global Grind (@GlobalGrind) December 7, 2014
Not nice. Somebody scratched "RAPIST" into Bill Cosby's Hollywood Walk of Fame star. http://t.co/Xo53kvhAX6 pic.twitter.com/4iTlKgxWOg

— The Source Magazine (@TheSource) December 7, 2014
Following the incident, the Hollywood Chamber of Commerce told Variety that it regretted the star's vandalism and that it hoped people would protest Cosby in a more "positive" fashion. "The Hollywood Walk of Fame is an institution celebrating the positive contributions of the inductees," the body said. "When people are unhappy with one of our honorees, we would hope that they would project their anger in more positive ways then to vandalize a California State landmark. The star is being cleaned up at this time."
Bill Cosby — whose storied film career began with his breakout co-starring role in the hit 1965 TV series I Spy — was awarded his iconic star on Hollywood Boulevard in 1977.
http://feedproxy.google.com/~r/breitbart/~3/H-H3XDePqts/