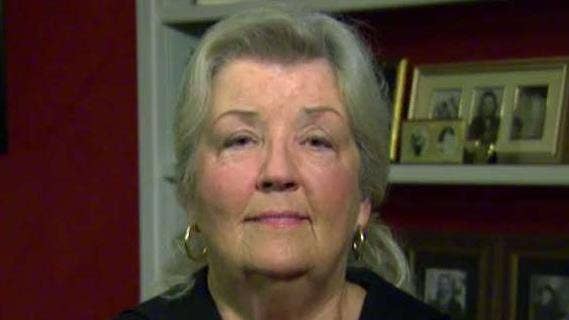 Juanita Broaddrick, the woman who accused former President Bill Clinton of raping her decades ago, slammed Democrats Thursday for what she called "the biggest double standard I've ever seen" in their treatment of sexual misconduct allegations against Supreme Court nominee Brett Kavanaugh.
Broaddrick spoke to the media outside the Senate building where the high-stakes hearing with Kavanaugh's first accuser is being held. Kavanaugh is due to testify before the Senate Judiciary Committee after Christine Blasey Ford, who says Kavanaugh sexually assaulted her in 1982 at a high school party, speaks to lawmakers. 
Ford says she first revealed the alleged assault in therapy in 2012 and had told multiple people. She has also taken a polygraph test, and has called for the FBI to investigate her claims. 
But Broaddrick, outside the Senate, told Fox News' Ellison Barber that there was "no comparison" between her case and Ford's.
KAVANAUGH, FORD SENATE HEARING LIVE BLOG  
"Because Dr. Ford has no evidence, I had the who, what, when, where and how and had five people that I told, not even counting the woman who found me 30 minutes after the rape with a swollen busted lip, torn clothes and in a state of shock," she said. 
She alleges that Clinton raped her in Arkansas in 1978 when she was a nursing home administrator and he was state attorney general. She claims the attack left her with a bloody lip, and Clinton told her to "put some ice on that." Clinton denied the accusation.
On Thursday, she attacked Democrats, such as Sens. Chuck Schumer, D-N.Y., and Dianne Feinstein, D-Calif., who she said did not believe her in the '90s but have jumped to believe Ford's account, despite the corroborating evidence Broaddrick said she had in her case.
"How they can take these accusations and run with them, and laugh at mine for so many years is the biggest double standard I've ever seen," she said.
"It makes me angry that they left [Clinton] in office," she said about the Senate Democrats who she said refused to consider her allegations.
Broaddrick indicated she was skeptical about Ford's accusations. 
"It's not that I've decided, she hasn't anything truly evidentiary to this point, how can she all of a sudden have something new to say today? She's presented nothing," she said.
Fox News' Ellison Barber and Guerin Hays contributed to this report.
http://feeds.foxnews.com/~r/foxnews/politics/~3/B2ZLPKZwY4Y/bill-clinton-rape-accuser-juanita-broaddrick-slams-dems-for-biggest-double-standard-on-kavanaugh.html