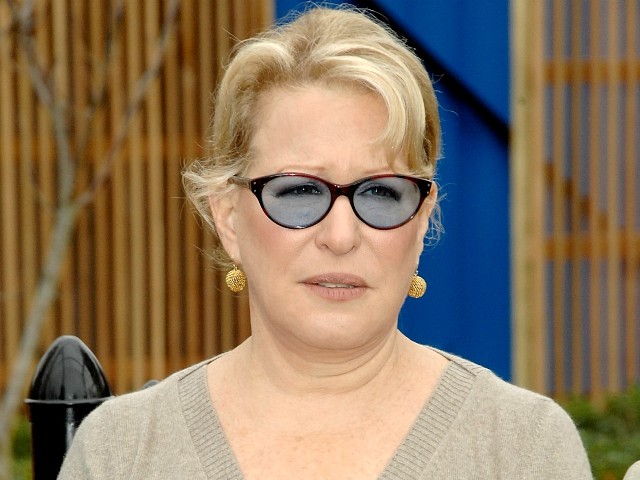 Actress and Broadway star Bette Midler was slammed by fans over her vulgar remarks about First Lady Melania Trump, just weeks after she described women as the "most disrespected creatures on earth."
Midler shared a photo Melania posing for a British GQ shoot back in the year 2000 in a skimpy futuristic dress on board her then-boyfriend Donald Trump's private jet.
"The dry cleaning bill for the upholstery on Air Force One must be insane. #FLOTITS," Midler wrote.
The dry cleaning bill for the upholstery on Air Force One must be insane.#FLOTITS pic.twitter.com/oI4yHfeX2O

— Bette Midler (@BetteMidler) November 14, 2018
Many social media users immediately took exception to the comments, denouncing them as sexist and an example of "body shaming."
"Now you've moved on to body Shaming? You? Honestly? Is this what you want your daughter to be like as well," wrote Melodie Willis Golde. "Teach her that if you disagree Politically that all bets are off when it comes to how you are as a human being? #Shameful."
"Wow….just wow. I would like to think you understand the shaming we already endure and rise above this. Way to be a part of the problem," wrote Bianca Golden.
"Disagree on politics all day long, but this is a mean-spirited and childish jab at a woman's choices," added another user, known as 'Deplorably Correct.' "THIS is what has finally made me put away my love for your great talent. You are a hypocrite.
It is not the first time that the 72-year-old star has caused controversy with her political commentary. Last month, Midler sparked another social media backlash after posting a racially insensitive tweet about feminism.
"'Women, are the n-word of the world' Raped, beaten, enslaved, married off, worked like dumb animals; denied education and inheritance; enduring the pain and danger of childbirth and life IN SILENCE for THOUSANDS of years," she wrote. "They are the most disrespected creatures on earth." She later apologized for the remarks.
Last year, Midler mocked Sen. Rand Paul (R-KY) over the violent attack he suffered at the hands of one of his neighbors, urged people to "lock up your daughters" as protection from Brett Kavanaugh, and even compared President Trump to a murderer.
Follow Ben Kew on Facebook, Twitter at @ben_kew, or email him at bkew@breitbart.com.
http://feedproxy.google.com/~r/breitbart/~3/zJeiF2pG4tk/