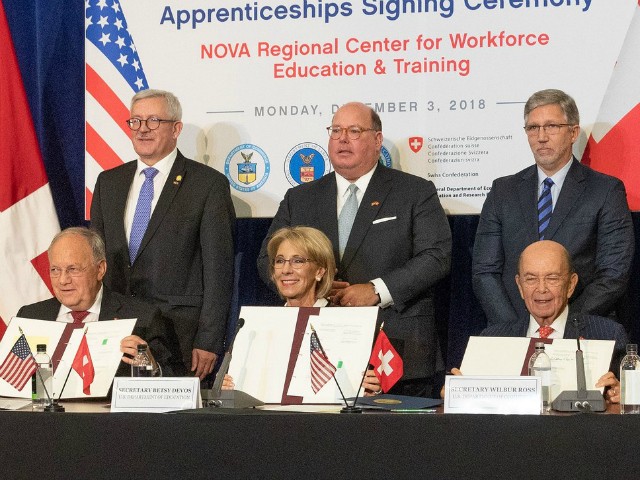 Education Secretary Betsy DeVos joined with the secretaries of the Departments of Labor and Commerce Monday to sign onto a memorandum of understanding with the Swiss government to promote collaboration between the two nations in the area of workforce development.
ICYMI: Yesterday ED, @USDOL, @CommerceGov and @SwissEmbassyUSA signed an MOU on apprenticeships. You might be familiar with #apprenticeship programs in the US, but there is a lot to know about (and a lot we could learn from) Swiss apprenticeships. 👇https://t.co/PVVRdE3eZm

— US Dept of Education (@usedgov) December 4, 2018
"This agreement will build upon ongoing collaboration between the United States and Switzerland to encourage businesses and stakeholders to promote the value of apprenticeship programs and develop effective strategies to increase awareness of and access to work-based learning," the Education Department wrote at its website blog.
The agreement comes after DeVos's announcement earlier this year about her desire to merge the U.S. Departments of Education and Labor. After a subsequent European tour, DeVos wrote in an op-ed at Education Week that during her international tour, she found the centralized approach to education and workforce development in European countries similar to what she envisioned with a merger of the U.S. Departments of Education and Labor.
"Switzerland is known for its robust apprenticeship program, with more than two-thirds of high school students engaged in one of the roughly 300 government-recognized apprenticeships," DeVos wrote:
.@BetsyDeVosED, @IvankaTrump, @SecretaryAcosta, @SecretaryRoss, & Swiss Economics Minister @_BR_JSA joined together to sign an MOU encouraging cooperation between and 🇺🇸 in the field of #apprenticeships. Three cheers for the 20+ Swiss companies who have pledged their support! pic.twitter.com/vKBGCELoMS

— US Dept of Education (@usedgov) December 3, 2018
DeVos, Labor secretary Alexander Acosta, Commerce secretary Wilbur Ross, and Ivanka Trump, the president's daughter and adviser, represented the United States at the "signing ceremony" with Swiss officials.
"The Swiss approach is one from which we can all learn a great deal," DeVos said in remarks at the signing event, reports Education Week. "One important take-away from my visit to Switzerland is that Swiss business leaders didn't ask for a permission slip from government to partner with educators."
Since her tour of European countries earlier this year, DeVos has expressed admiration for the type of education and workforce development practices countries such as Switzerland, the Netherlands, and the U.K embrace.
In June, DeVos said it was her hope that adopting some of the education policies of these nations would "help catch us up" to students from other countries:
Pleased to join @IvankaTrump, @BetsyDeVosED, @SecretaryAcosta and Swiss Economics Minister @_BR_JSA at today's MOU signing on #apprenticeships. This agreement provides an opportunity for the U.S. to apply on a broad scale the best practices from the Swiss apprenticeship system. pic.twitter.com/4BdSUrsKAb

— Sec. Wilbur Ross (@SecretaryRoss) December 3, 2018
In its blog post, the Education Department lists 15 facts about the Swiss Apprenticeship Program, including that "nearly 2/3 of young people in Switzerland choose to pursue a vocational program."
"A defining feature of the Swiss vocational education system is its close correlation with the labor market," the department continues. "Training is geared to actual demand for vocational qualifications and to available jobs."
The department writes that Swiss companies spend nearly one percent of GDP annually on apprenticeships and that 50 to 80 percent of apprentices are retained in the reported companies.
"Companies start recruiting students in the 7thgrade with apprenticeships starting in 10the grade," the blog post states. "Even at a cost of $50K-$150K over 3-4 years, the businesses get a full return on their investment":
With Secs DeVos, Ross & Acosta & Swiss officials for the signing of the MOU that will encourage Swiss companies to invest in America's workers!
Thank you to the 20+ Swiss companies that signed our #PledgeToAmericasWorkers & created NEW opportunities for 40,000+ Americans! 🇺🇸 pic.twitter.com/qQkImEIWcy

— Ivanka Trump (@IvankaTrump) December 3, 2018
Some education policy analysts, however, assert federal promotion of a workforce development model of education encourages a view of children as prospective laborers who can fulfill the needs of big business for inexpensive, local workers. While some students may opt for apprenticeships on their own, these analysts are concerned about students being pigeon-holed in middle school for a particular industry favored by the government when they might develop other interests later in their education.
"It's troubling that so many education policy-makers, including Secretary DeVos, are drawn to the European system of the school-to-work pipeline," Jane Robbins, senior fellow at American Principles Project, told Breitbart News. "Revamping our entire system to create cogs for politically connected companies isn't the way to 'catch up.'"
Similarly, Eunie Smith, president of the Eagle Forum, told Breitbart News she was concerned the type of education a child receives "would be influenced by crony corporations dictating to schools the skills needed for future workers."
"Centralized, government-planned economies do not work, and that's not the free market system under which America and our economy have prospered," Smith explained.
http://feedproxy.google.com/~r/breitbart/~3/wnjELOkbtjg/