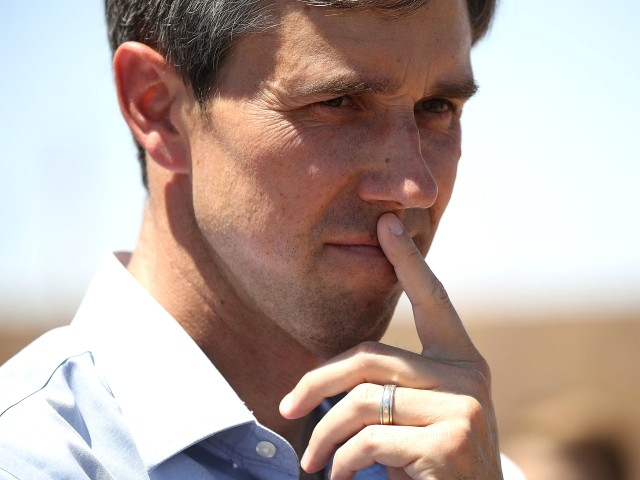 Rep. Beto O'Rourke (D-TX) has voted repeatedly against holding incompetent Veterans Affairs employees accountable — a contrast with what he has said on the campaign trail, 
according to the Ted Cruz campaign.
"Beto O'Rourke boasts about his commitment to Texas' veterans – but a closer look at his record reveals that time and again, Beto has voted against holding inept bureaucrats at the VA accountable. Texas Veterans deserve better than Beto O'Rourke's empty platitudes and double talk," said Cruz spokesperson Catherine Frazier.
O'Rourke voted against the VA Accountability Act of 2015, which would make it easier for the VA to demote or fire employees based on poor performance and offer increased protection for whistleblowers.
The bill passed in the House by a vote of 256-170. All "no" votes except one came from Democrats. The Obama White House opposed the bill, since it would allow a VA employee to be removed or demoted without the ability to appeal the decision.
The bill came after a VA scandal that revealed VA employees were doctoring wait times to hide that veterans were made to wait months before seeing a doctor.
The next year O'Rourke voted in favor of an amendment to the "VA Accountability First and Appeals Modernization Act of 2016," which would remove a provision allowing the VA Secretary to suspend without pay a VA employee whose performance or misconduct threatens public health or safety of veterans, and to remove a suspended employee if an investigation and review was considered necessary.
All "aye" votes were from Democrats, except one.
In 2017, O'Rourke again voted in favor of an amendment to the VA Accountability First Act that would remove provisions to expand the VA's ability to demote, suspend, or terminate employees. Again, all "aye" votes were from Democrats. He eventually voted for the bill, after attempting to remove that provision.
Breitbart News reached out to O'Rourke's campaign for a response, but did not receive one by deadline.
O'Rourke is running for Sen. Ted Cruz's U.S. Senate seat. According to an average of polls by RealClearPolitics, Cruz is up by 3.2 percentage points.
http://feedproxy.google.com/~r/breitbart/~3/8qM3sCgZ22o/