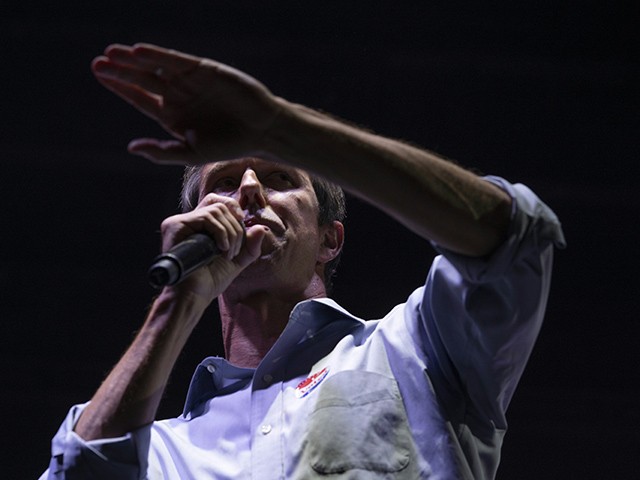 Failed U.S. Senate candidate Rep. Robert Francis "Beto" O'Rourke (D-TX) said Tuesday that he supports the immediate removal of a Confederate plaque from the Texas State Capitol.
Responding to Rep. Eric Johnson's (D-TX) tweet voicing support for the removal of the "Children of the Confederacy Creed" plaque, O'Rourke tweeted: "I'm with Eric on this one. Take it down today."
I'm with Eric on this one. Take it down today. https://t.co/mydRh1N6zP

— Beto O'Rourke (@BetoORourke) November 27, 2018
On Monday, the Texas State Preservation Board announced it was looking into the rules about how to relocate a historical item after Texas Attorney General Ken Paxton issued an opinion stating there were multiple avenues lawmakers could take to have the plaque removed.
"Paxton issued an opinion Wednesday stating that either the Legislature, the State Preservation Board, the Texas Historical Commission or the Capitol curator have the authority to take down the Children of the Confederacy plaque. State lawmakers can pass a resolution requiring its removal, Paxton said, the curator can honor a lawmaker's request that it come down, or the board can act," the Dallas Morning News reports.
"This opinion addresses an issue the agency heretofore has not been asked to consider — the removal of artifacts assigned to the agency's care," a statement via the State Preservation Board read. "The agency will now proceed with due diligence to develop a policy that addresses the review and potential removal or relocation of an artifact upon legislative request."
O'Rourke's support of the plaque's removal comes after the Texas Democrat said Monday evening during a town hall event that he would not rule out running for president in 2020. "The best advice I received from people who've run for, and won — and run for, and lost — elections like this, is: Don't make any decisions about anything until you've had some time to hang with your family and just be human," O'Rourke said, according to the Texas Tribune. "And so I am following that advice."
http://feedproxy.google.com/~r/breitbart/~3/GPispHwma-I/