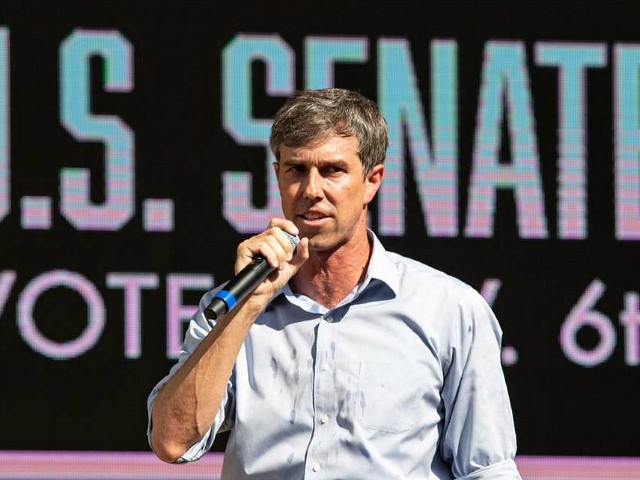 Beto O'Rourke apologized for once writing that the only qualifications of actresses in Broadway's The Will Roger's Follies were their "phenomenally large breasts and tight buttocks."
Beto O'Rourke is the pro-gun control Democrat challenging Sen. Ted Cruz (R-TX) in the coming November midterms.
Politico reports that O'Rourke wrote the comment about The Will Roger's Follies actresses in 1991 while working for the Columbia Daily Spectator.
An archived version of O'Rourke's column shows that he described the performance as "one of the most glaring examples of the sickening excesses and moral degradations of our culture." In summary, he said the Broadway show consisted of a lead actor "surrounded by perma-smile actresses whose only qualifications seem to be their phenomenally large breasts and tight buttocks."
O'Rourke sent an apology to Politico after his column was discovered. O'Rourke wrote, "I am ashamed of what I wrote and I apologize. There is no excuse for making disrespectful and demeaning comments about women."
AWR Hawkins is an award-winning Second Amendment columnist for Breitbart News, the host of the Breitbart podcast Bullets with AWR Hawkins, and the writer/curator of Down Range with AWR Hawkins, a weekly newsletter focused on all things Second Amendment, also for Breitbart News. He is the political analyst for Armed American Radio. Follow him on Twitter: @AWRHawkins. Reach him directly at awrhawkins@breitbart.com. Sign up to get Down Range at breitbart.com/downrange.
http://feedproxy.google.com/~r/breitbart/~3/N8vSBAKcnhA/