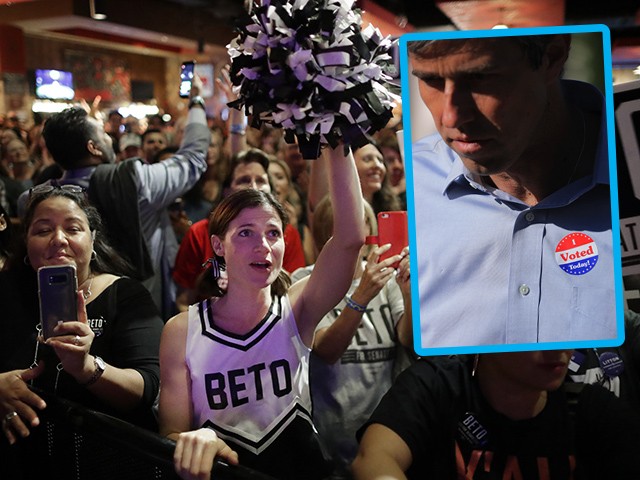 Sen. Ted Cruz fended off Democrat challenger Robert Francis O'Rourke to win re-election in a high-profile Senate race Tuesday, but establishment media pundits, Hollywood celebrities, and liberal activists did not lose hope — they had now moved on to dreams of "Beto 2020."
Cruz finished a surprising second in the 2016 Republican presidential primary and began the Senate race as a prohibitive favorite. However, O'Rourke visited fiercely conservative parts of the state that his party had long since given up on, while shattering fundraising records despite shunning donations from outside political groups and pollster advice. Cruz argued that his opponent's support for gun control and universal health care were too liberal for the Lone Star State.
O'Rourke shot down similar suggestions Monday on the campaign trail and pledged not to run for president.
Below is a round-up of Beto 2020 buzz via Twitter, which including actress Alyssa Milano, NBC's John Harwood, and CNN political analyst Chris Cillizza:
Yo @BetoORourke if you don't run in 2020 with the slogan "A Beto Deal" I'm gonna be disappointed af pic.twitter.com/GxRMPp0qqX

— 🍗 .ashley. 🍁 (@AshleyEsqueda) November 7, 2018
OK, @BetoORourke for POTUS, 2020!

— Bryan William Jones (@BWJones) November 7, 2018
if Beto gets persuaded to run for president in 2020, he will instantly become a top-tier candidate https://t.co/AkjFLKzFt3

— John Harwood (@JohnJHarwood) November 7, 2018
Biden/Beto 2020?

— Brittany Kaplan (@BrittanyLKaplan) November 7, 2018
This stings. @BetoORourke ran an amazing campaign and inspired so many. He also came so, so close. In Texas. Not a small thing. Hoping for bigger and better things in the near future. #Beto2020 https://t.co/cJ0fUeo1rw

— kashif shaikh (@kmshaikh) November 7, 2018
Time to run Beto O' Rourke against Trump in 2020 if he can get 3mil votes in Texas alone

— Russ Russo (@russrusso) November 7, 2018
Beto 2020 #ElectionNight

— Clementine Ford ‍♀️ (@clementine_ford) November 7, 2018
Looks like it's time to run for president, @BetoORourke.

— Dawn M. Bennett (@DawnMBennettVA) November 7, 2018
Beto/Someone Equally Hot 2020

— Kashana (@kashanacauley) November 7, 2018
Beto will be President I swear to god https://t.co/refFAevz1e

— David PemberVOTE (@DaveYourFave) November 7, 2018
I was busy filing an update to @LetitiaStein's roundup of governor races, and I see everyone has now called Texas for Cruz. Which I suppose frees up Beto to run for president in 2020?

— Joseph Ax (@josephax) November 7, 2018
That Beto/Bernie/Beyonce 2020 ticket is looking really good right now

— Felipe Escamilla (@IronFeep) November 7, 2018
Win or lose, Beto is immediately an presidential candidate. Let's gooooo

— Jason Lipshutz (@jasonlipshutz) November 7, 2018
Say it with me: Harris/Beto 2020 🔥

— Yes on Prop 3, California (@AgentTinsley) November 7, 2018
I will vote for Beto in 2020.

— Chrissa (@chrissahardy) November 7, 2018
Beto for president!!! https://t.co/r4iEFRmXwm

— Amy Holden Jones (@aholdenj) November 7, 2018
@KamalaHarris / @BetoORourke is a winning ticket

— Josh Young (@joshpaulyoung) November 7, 2018
already excited to vote for Beto for President

— Brandon Stroud (@MrBrandonStroud) November 7, 2018
CNN projects Cruz beats Beto.

Now, does Beto run for president???

— Chris Cillizza (@CillizzaCNN) November 7, 2018
beto's gonna be the 2020 nominee bc only the democrats would nominate the guy who lost to ted cruz against the guy who demolished ted cruz.

— josh "Yes on B" androsky (@ShutUpAndrosky) November 7, 2018
Beto for president tho

— Martha Sorren (@marthasorren) November 7, 2018
Odds that dems will run #Beto in 2020?

— Aimee VOTE VOTE VOTE Carrero (@aimeecarrero) November 7, 2018
Beto 2020 🇺🇸

— Katie Stevens (@thekatiestevens) November 7, 2018
At least we know Beto will be president one day and Ted Cruz is, well, always going to be Ted Cruz.

— Olivia Muenter (@oliviamuenter) November 7, 2018
The fact that Beto came so close in a such a redneck-heavy state like Texas is really astounding. He should definitely run for President in 2020. Very impressive. https://t.co/aLMzwLP8vr

— Ali A. Rizvi (@aliamjadrizvi) November 7, 2018
BETO 2020

— Ryan Case (@film114) November 7, 2018
I mean does this mean Beto tries to run for the presidential democrat nomination for 2020?

— Piya Chattopadhyay (@piya) November 7, 2018
Ted Cruz wins Texas, but this isn't the last we've seen of Beto. He'll be back before 2020…

— Kristin Tate (@KristinBTate) November 7, 2018
Beto 2020

— Jackson (@jacksonlatka) November 7, 2018
Who do you think @BetoORourke will choose as his running mate?? #Beto2020

— david nussbaum (@theNuzzy) November 7, 2018
but like Beto for president 2020????

— jillian (@jcimorelli) November 7, 2018
Beto for prez

— Slim (@PittsburghSlim) November 7, 2018
@BetoORourke for President.

— Jenn (@JennOnAir) November 7, 2018
If Beto runs in 2020 I am quitting my job and volunteering full time for his campaign

— David PemberVOTE (@DaveYourFave) November 7, 2018
Beto finna be on that 2020 ticket.

— Justin Tinsley (@JustinTinsley) November 7, 2018
BETO 2020 BETO 2020 BETO 2020 BETO 2020 BETO 2020 BETO 2020
BETO 2020 BETO 2020 BETO 2020 BETO 2020 BETO 2020 BETO 2020
BETO 2020 BETO 2020 BETO 2020 BETO 2020 BETO 2020 BETO 2020
BETO 2020 BETO 2020 BETO 2020 BETO 2020 BETO 2020 BETO 2020#ElectionNight

— Soman Chainani (@SomanChainani) November 7, 2018
Beto will get the last laugh when he acheives Ted Cruz's dream of becoming president

— Aléx Young (@AlexYoung) November 7, 2018
Beto O'Rourke for President in 2020.

— Reggie Cunningham (@kidnoble) November 7, 2018
Beto 2020 for President https://t.co/1IJGUGDMtI

— Dan Graziano (@DanGraziano) November 7, 2018
Hey Texas…what's ur problem?! @tedcruz is a creepy evil big toe and @BetoORourke is a beautiful tall glass of loveliness. Y'all fuckin shit up!!! #beto2020 pic.twitter.com/SKBdzwof5y

— TATIANNA (@TATIANNANOW) November 7, 2018
Jake Tapper on CNN speculating that Beto O'Rourke will feel pressure to run for president. Wouldn't the ideal candidate for 2020 be someone… with a track record… of winning?

— Daniel D'Addario (@DPD_) November 7, 2018
I will also accept a @KamalaHarris / @BetoORourke ticket but you guys still have to use #ABetoDeal

— 🍗 .ashley. 🍁 (@AshleyEsqueda) November 7, 2018
Ya done messed up big Texas. Beto 2020.

— Daniel Ellsworth + The Great Lakes (@DEandTGL) November 7, 2018
I can't wait to support @BetoORourke for #POTUS 2020! 🇺🇸

— sara tariq (@thesaratariq) November 7, 2018
Beto 2020. Because you can't gerrymander the whole damn country Texas style.

— Wagner James Au (@slhamlet) November 7, 2018
Until 2020, can we cast Beto O'Rourke on The Young and the Restless?

— Nelson Branco (@nelliebranco) November 7, 2018
@BetoORourke Beto 2020 Beto 2020 Beto 2020 Beto 2020 Beto 2020

— Merritt Paulson (@MerrittPaulson) November 7, 2018
The good thing about @BetoORourke losing this race is that he can now focus on running for president

— Noam Galai (@ngalai) November 7, 2018
BETO 2020 hats, stickers, shirts ect. are about to be 🔥🔥🔥🔥

— Timothy Perry (@timpperry91) November 7, 2018
Beto O'Rourke for president in 2020

— John Lurie (@lurie_john) November 7, 2018
Beto lost? That's ok. Now he can run for President.

— Alyssa Milano (@Alyssa_Milano) November 7, 2018
I think @BetoORourke can still be a national candidate in 2020. He's become a national figure and raise more $$$ than anyone else.

— Scott Simon (@nprscottsimon) November 7, 2018
Beto will be president one day. Let Ted Cruz be the face of the Republican Party… I can guarantee you he's not helping them nationally.

— William LeGate (@williamlegate) November 7, 2018
Congrats to Beto O'Rourke on the official start of his 2020 presidential campaign

— Melanie Schmitz (@MelsLien) November 7, 2018
Beto for President

— Eva Golinger (@evagolinger) November 7, 2018
So Beto in 2020? There is no reason to think he couldn't win.

— Carl Newman (@ACNewman) November 7, 2018
BETO 2020

— Emily Sears (@emilysears) November 7, 2018
Beto for president. #ElectionDay

— Travon Free (@Travon) November 7, 2018
Beto For President!

— Morgan J. Freeman (@mjfree) November 7, 2018
Silver lining? @BetoORourke 2020. Now he can run for President. 🌟

— Robyn O'Brien (@RobynOBrienUSA) November 7, 2018
Donald Trump beat Ted Cruz who beat Beto O'Rourke. By the reverse transitive property of Democratic strategy, Beto is sure to beat Trump. #Beto2020

— Jeremy McLellan (@JeremyMcLellan) November 7, 2018
But if Beto runs in 2020!!!

— Lindiwe Suttle (@lindiwesuttle) November 7, 2018
Beto O'Rourke lost the Texas battle, but will be poised for the presidential war in 2020. He almost did the impossible in Texas.

— Khaled Beydoun (@KhaledBeydoun) November 7, 2018
Beto 2020

— Perfume Genius (@perfumegenius) November 7, 2018
Beto + Kamala 2020 would be FIRE

🔥🔥🔥🔥🔥🔥🔥🔥🔥🔥🔥

— Alexander Taub (@ajt) November 7, 2018
Beto 2020

— Brad Haugen (@hoogs) November 7, 2018
BETO 2020

— Travis Helwig (@travishelwig) November 7, 2018
Beto/Abrams 2020

— Lincoln Anthony Blades (@lincolnablades) November 7, 2018
http://feedproxy.google.com/~r/breitbart/~3/GSlwbpyKjLw/