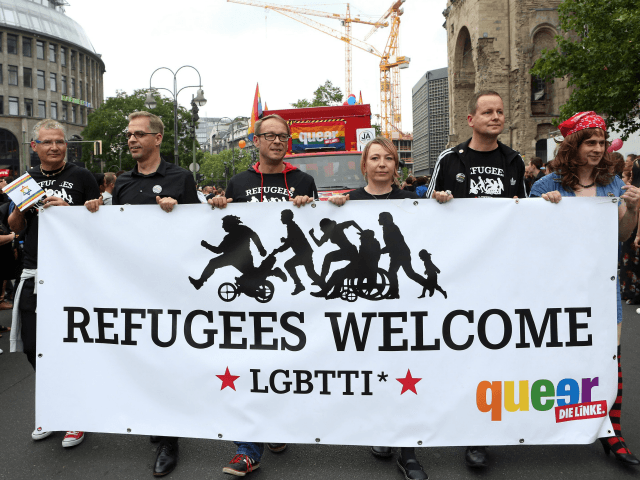 A Berlin anti-violence project has claimed that attacks on homosexuals have never been so common in the German capital, with most of the attackers being young migrant-background men.
In 2017 alone, 324 violent incidents and threats toward homosexuals was reported to the Berlin anti-homophobic violence group Project Maneo which claimed that around a third of the complaints involved bodily injury, Berliner Zeitung reports.
The vast majority of the homophobic assaults in the city have occurred in the districts of Tempelhof-Schöneberg, Friedrichshain-Kreuzberg, and Neukölln. Almost all of the perpetrators of violence are men from migrant backgrounds, according to the head of Project Maneo Bastian Finke.
"We are still living in a male-dominated society in which the public space is a male-dominated space," Finke said.
The figures collected by Project Maneo were much higher than those reported to Berlin police which reported only 164 crimes against homosexuals and transsexuals during the same period.
Anne Griessbach-Baers, who handles such cases for the Berlin police, said, "We estimate that 80 to 90 percent of cases will not be reported," indicating that the true number of homophobic crimes could be far higher.
LGBT-Only Migrant Centres Pop Up After Gay And Trans Refugees Experience Violence, Threats https://t.co/GWq7DW2arG pic.twitter.com/FzmrmmeLRA

— Breitbart London (@BreitbartLondon) January 21, 2016
The Berlin Senate administration for justice, consumer protection, and anti-discrimination championed the government's sensitivity toward tackling homophobic crimes saying: "In Europe, the Berlin Public Prosecutor's Office is currently the only public prosecutor who takes account of the special needs of the queer community and perceives this task with high sensitivity and heightened attention."
Homophobic attitudes among migrants and asylum seekers have been an issue since the height of the migrant crisis in 2015 with LGBT-only migrant centres opening in Berlin in early 2016 due to threats of violence.
Migrant-background individuals have also been seen to be behind an outpour of negative attitudes, threats, and violence towards other minority groups in Berlin such as Jews.
Earlier this year, Berlin's Jewish community called for support in addressing the growing anti-Semitism, encouraging Jews and non-Jews alike to wear kippahs in solidarity.
In response to the growth of threats and violence toward Jews from migrants and asylum seekers, German Chancellor Angela Merkel's government accept a proposal to strip migrants of residency permits who commit anti-Semitic attacks.
Follow Chris Tomlinson on Twitter at @TomlinsonCJ or email at ctomlinson(at)breitbart.com
http://feedproxy.google.com/~r/breitbart/~3/WU0sUWZHDgw/