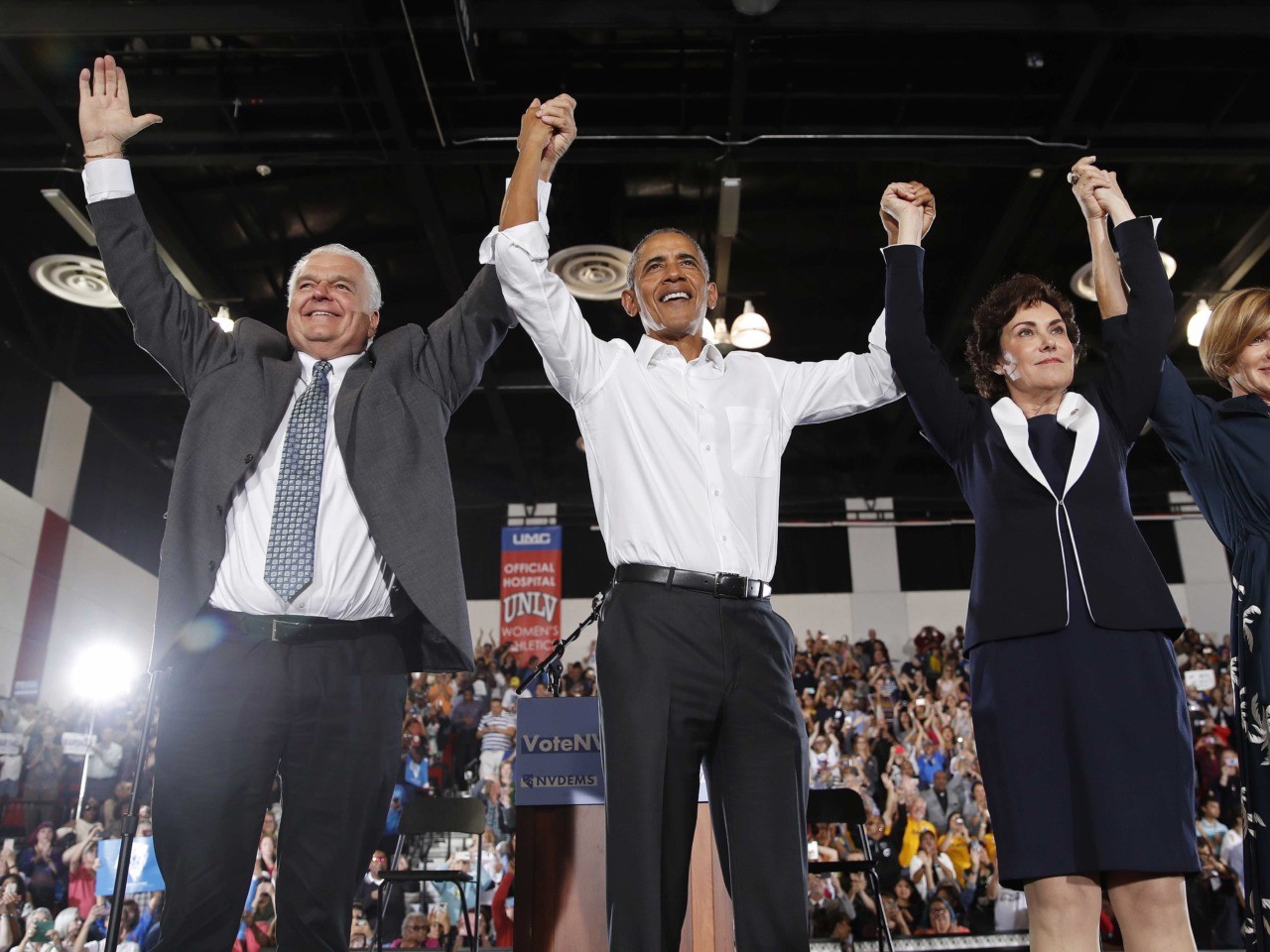 President Barack Obama campaigned Monday in Nevada with Democrat Steve Sisolak, who is running for governor, despite allegations that emerged last week that Sisolak had physically abused his former wife.
Democrat Jacky Rosen, who is running for U.S. Senate against incumbent Republican Dean Heller, was also at the rally with Obama in Las Vegas.
In September, Rosen tweeted, "Believe women" — a response to the uncorroborated allegations against Brett Kavanaugh as he endured a grueling confirmation battle for the U.S. Supreme Court.
Sisolak's former wife, Lori "Dallas" Garland, told The Daily Caller News Foundation that he had abused her:
Nevada Democrat Steve Sisolak has framed his gubernatorial campaign on an image of him raising his two daughters as a single father. But his ex-wife said that claim is "bull," that he treated her like "a total prisoner," and that an altercation with Sisolak in 2000 left her with a bruised neck.

…

"He claims he raised those daughters by himself. That's bull," Garland, whose legal last name is still Sisolak, told The Daily Caller News Foundation. "He did that on purpose. He didn't raise our daughters by himself. They have a mom."

…

Garland also detailed an August 2000 incident that she says left a bruise on her neck and ended with Sisolak threatening to call the police. TheDCNF obtained photographs of Garland's bruised neck taken the day after the incident and spoke with three individuals who recalled seeing her bruised neck.

…

"He's very vindictive, and very revengeful. And I don't trust him. And I'm scared of him," Garland said of her ex-husband, who is in a tight gubernatorial race with his opponent, Republican Adam Laxalt.
In addition to photos, Garland also reportedly has contemporaneous diary accounts of the alleged abuse.
Sisolak has made appeals to women a core part of his campaign strategy:
On #DayoftheGirl, I'm reminded of the two amazing girls I was lucky to raise. I'm so proud of the women they've become, & so grateful for the educational opportunities that allowed them to chase their dreams. Now let's secure that opportunity for all of Nevada's daughters. #NVGov pic.twitter.com/xb2wuyce47

— Steve Sisolak (@SteveSisolak) October 11, 2018
The Daily Caller reports that Obama, Sisolak, and Rosen did not return its requests for comment.
According to local Fox affiliate KVVU-TV, Obama "re-energized" Democrats to turn out for Sisolak, Rosen, and others in the midterm elections: ""Right now, we have a chance to restore some sanity to our politics," he said.
Joel B. Pollak is Senior Editor-at-Large at Breitbart News. He is a winner of the 2018 Robert Novak Journalism Alumni Fellowship. He is also the co-author of How Trump Won: The Inside Story of a Revolution, which is available from Regnery. Follow him on Twitter at @joelpollak.
http://feedproxy.google.com/~r/breitbart/~3/0m-e6A9vzT4/