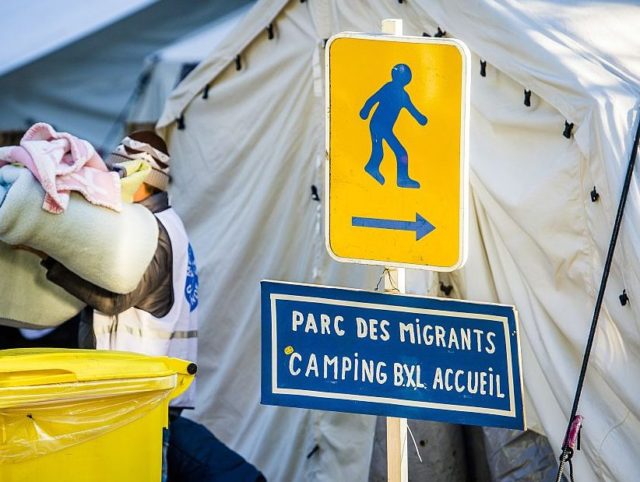 Belgian police have shot and wounded a man who attacked officers with a knife after he was found sleeping rough near a Brussels park where illegal immigrants congregate.
The suspect was taken to hospital in a serious condition, according to local media, which reported that prosecutors said in a statement there was "no indication" to suggest the incident was a terror attack.
La Libre reports a source who said the assailant was either "Afghan or Egyptian origin".
Two officers approached a man who was sleeping rough and asked him to move elsewhere so the street could be cleaned, Brussels police spokesman Ilse Van de Keere told AFP.
The suspect pulled out a knife and threatened police officers, who repeatedly asked him to drop the weapon to no avail. Officers sprayed the man with gas, but "the person continued to be threatening and injured the officer in the head," she said.
As the officer who was hurt in the attack went to receive medical treatment, his colleague shot the suspect in the leg and the torso, said Van de Keere, adding: "An investigation is underway to determine exactly what happened related to the shooting incident."
Policier poignardé au parc Maximilien à Bruxelles: les jours du suspect sont en dangerhttps://t.co/7zQ6wEhoBk pic.twitter.com/t2kpB3d8gc

— Le Soir (@lesoir) September 17, 2018
The attack took place near Brussels' World Trade Center complex of skyscrapers located close to the city's Immigration Office as well as Maximilien Park, which is used as a campsite by asylum seekers, many of whom hope to illegally migrate to the UK.
A witness who wished to remain anonymous told RTL Info: "This morning, police arrived to clear people in the park, and they stood for a moment to talk to each other about what they were going to do.
"It was when they started to move people on that the incident happened. They may have asked the suspect to leave, when he pulled out a knife and said he wanted to attack the police," he said, adding that an officer fired two or three shots while shouting "drop the knife".
Last month Belgian immigration minister Theo Francken slammed authorities in Brussels for allowing NGOs to turn the park into a gathering place for hundreds of "purely economic migrants" who want to break into Britain, asserting they should be "lock[ed] up" and sent home.
"Three years of Park Maximilien. Three years of Socialist pampering of illegals and open border NGOs. If I were mayor of Brussels, two weeks and the problem would be fixed," he posted to Twitter.
http://feedproxy.google.com/~r/breitbart/~3/s4AkFeL2Pdk/