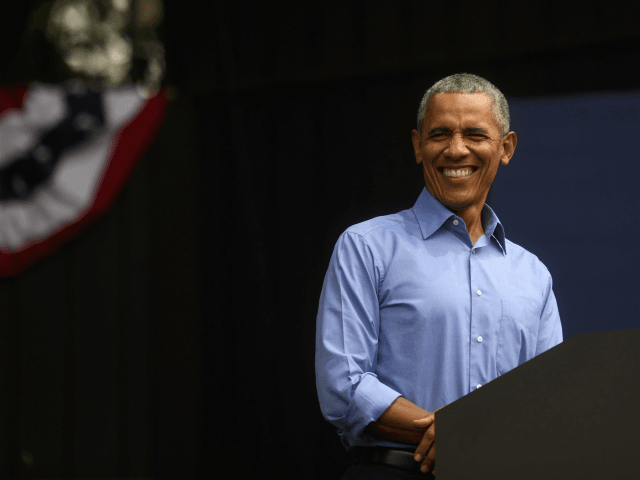 Former President Barack Obama campaigned in Michigan and Wisconsin on Friday, clinging on to hope for the future of the Democrats.
"I am hopeful that out of this political darkness, a great awakening of citizenship is happening all across the country," Obama said during a rally in Milwaukee, Wisconsin on Friday.
While President Trump has stormed the country with over 30 campaign rallies for Republicans for the midterms, former President Obama has held only a handful of rallies for Democrats.
Obama warned that the consequences of the midterms elections were both "dangerous and profound," adding that "the character of our country is on the ballot."
The former president appeared bitter in his campaign speeches, arguing that the economic boom under Trump began under his presidency.
"It's the same economy that I left them that they said it was so terrible, just remember how it got to be so good," he shouted in Detroit, Michigan.
As Obama paused, a musical band at his rally played a few notes of triumph.
THE BAND REMEMBERS! pic.twitter.com/y2mdSE7yuf

— Charlie Spiering (@charliespiering) October 27, 2018
"Got the band playing! The band remembers!" he yelled. "Yeah! The band remembers!"
He appeared frustrated that his eight years of "progress" for the country, Republicans and President Donald Trump were walking his accomplishments back.
"For every two steps of progressive change forward, a lot of times we take one step back in conservative retrenchment," Obama said.
The former president urged supporters to speak to "less than energized" friends and "misinformed" family members, and get them to the voting booth, recalling his campaign theme in 2008.
"Change is gonna come!" he said. "Hope will start happening again … Hope has a funny way of spreading, hope is infectious."
During his speech in Detroit, one female supporter begged him to run again for president.
"I can't do that baby, because I follow the Constitution," he replied.
http://feedproxy.google.com/~r/breitbart/~3/wfRXWPYWKaE/