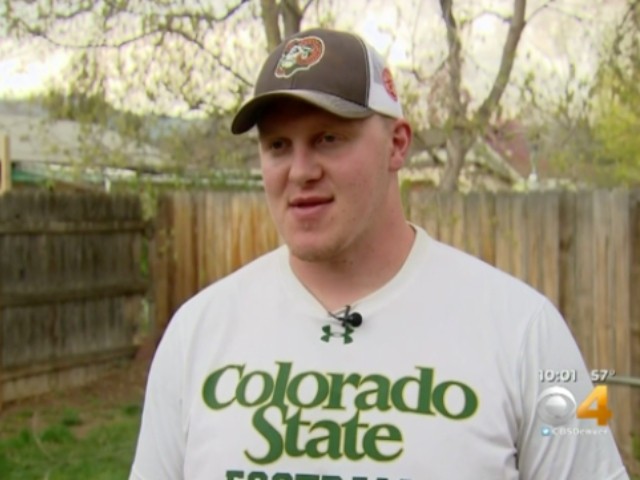 Zack Golditch, newly signed by the Arizona Cardinals, has had a long road to the NFL. From high school sports star, to a shooting victim, to an NFL player, his story is unlike any other.
Golditch was a 17-year-old Gateway High School sports star when he was wounded in the neck during the shooting at a multiplex theater in Aurora, Colorado, on July 20, 2012. The young man was enjoying a film when a bullet fired in an adjacent theater ripped through the wall. The bullet struck the player in the neck barely missing his carotid artery.
But the newly minted Cardinals offensive lineman says that his instincts took over and may have saved his life. He ran, USA Today reported.
"I looked up and saw somebody who got injured over my right shoulder," Golditch said. "Regardless, that bullet was coming for me. If I was in a different position, the doctors told me it would have been a lot worse. So, I was fortunate that way. But I'm also here because I ran out. I called 911 and ran."
Golditch noted that despite his wound he was able to move, so he just took off. "The thought of losing my life, not being able to function properly, not being able to see, breathe, smell and move was not of my concern because my flight response kicked in," he said.
The player was lucky. The bullet entered under his left ear and tore completely through his neck, exiting out the right side. But luck held, and the slug passed millimeters away from his carotid artery, which if nicked would have seen him bleed out quickly.
"Obviously, there's a lot of fragile stuff happening around your neck," Golditch added. "I don't know the anatomy of the neck, but I was told I was pretty lucky."
Golditch also said that the attack that killed 12 and wounded 70 helped define himself. "It not only showed a new side to myself, but it showed how strong Aurora is. It showed how supportive people really are. It brought out the best in people."
After recovering from his wound, the newest Cardinal lineman went on to earn a scholarship at Colorado State where he played as a starting offensive lineman in 38 starts and 43 games. He also earned first-team All Mountain West honors as a senior. Since college the 6-5, 295-pound player has filled temporary spots on several NFL teams, including the 49ers and the Colts, but now has his shot at a steady gig in Arizona.
Follow Warner Todd Huston on Twitter @warnerthuston.
http://feedproxy.google.com/~r/breitbart/~3/LufXWLw8pow/