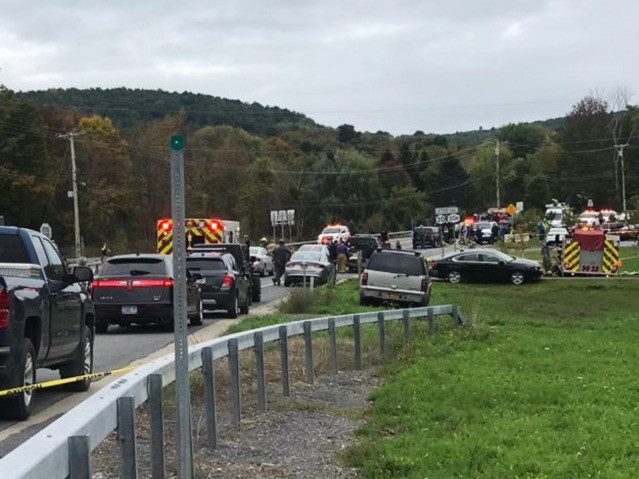 At least 20 people have died after a limousine collided with another vehicle at an intersection Saturday near an upstate New York tourist destination, police announced Sunday.
Eighteen of the victims were passengers in the limousine while the other two were bystanders, sources close to the police investigation told the Associated Press.
New York State Police is not releasing the identities of those killed until officials notify next of kin. The crash took place shortly before 2 p.m. Saturday in Schoharie, 43 miles west of Albany, state police announced Saturday.
The limousine collided with the vehicle at the intersection between State Route 30 and 30A near Apple Barrel, a store and cafe popular with tourists in the fall season, the Albany Times-Union reported. New York State Police, the Red Cross, and the Schoharie County Sheriff's Office all arrived at the scene.
The limousine had been speeding downhill before the crash.
"What we can tell you at this point is that it is a two-vehicle, multi fatalities as a result of this crash.  The investigation is very preliminary it's in its infancy stages," New York State Police Capt. Richard O'Brien said in a Saturday night news conference.
The National Transportation Safety Board confirmed Sunday it was dispatching "go-team" to investigate the crash, and verified that one of the vehicles involved was a limousine. Authorities are continuing to investigate the cause of the crash.
http://feedproxy.google.com/~r/breitbart/~3/ldhrZbckiPo/