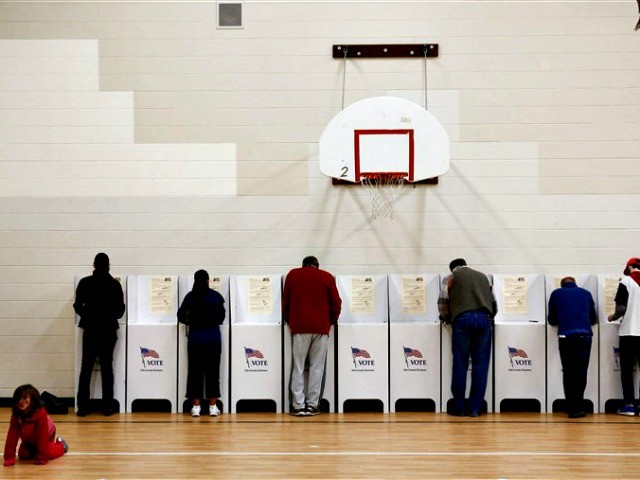 At least 1,400 noncitizens, who registered to vote in the Detroit metropolitan area, were removed from the voter rolls since 2011, according to a new report that also reveals concerns over voter duplications and registrants with implausible dates of birth, some dating back to the 1800s.
In Motor Voter Mayhem, the Public Interest Legal Foundation (PILF) details how Michigan's noncitizens became registered to vote through DMV transactions and other means as required by the National Voter Registration Act (NVRA). More commonly known as "motor voter," the legislation was signed into law by President Bill Clinton in 1993. Motor Voter allows anyone who applies for a state driver's license the opportunity to register to vote.
In the Detroit area, at least 1,444 registered voters were noncitizens. From this total, 822 noncitizens resided in Detroit proper, a figure which PILF called "among the highest" they ever saw from a single jurisdiction nationwide.
"Motor Voter is failing Motor City," said PILF President and General Counsel J. Christian Adams in a statement Monday. "Like this Foundation has seen in other jurisdictions, Motor Voter is inviting noncitizens onto voter rolls."
The NVRA mandates that election officials maintain accurate voter information and make those records available for public inspection. The nonprofit law firm analyzed more than 30 jurisdictions across Michigan, examining alien registration and voting as well as "defects" in the lists of eligible voters.
"Records made available to the Foundation show that noncitizens are registering to vote in astounding numbers in Michigan and that several jurisdictions have thoroughly obsolete and inaccurate rolls," said the report.
NVRA intended to "increase the rate of registration of eligible voters and thus increase participation in elections," however, it also left Michigan's voter rolls in "disrepair:"
Our research also uncovered that the rolls in many Michigan jurisdictions are in a state of disrepair. Some have implausible registration rates. Others are full of duplicates and likely deceased voters with implausible birth years. Of course, some jurisdictions in Michigan are struggling economically and have declining populations. Our research demonstrates that the current directives and tools under the NVRA are impairing the statute's goal of ensuring accurate and current rolls across the country.
"This report also encourages state and local officials to take a closer look at procedures that are yielding alarming numbers of duplicate and potentially deceased registrants," added Adams.
PILF also identified 2,264 instances of duplicate and triplicate voter registrations for individuals in the area. Detroit reportedly topped the list with 1,748 of those duplicates. Flint followed with 358 duplicates. Livonia and Grand Rapids reflected 57 and 54, respectively, and Dearborn trailed with only 47 replicated registrants.
Such inaccuracies can occur through typographical errors, date of birth discrepancies, maiden to married name changes, and incorrectly marking or changing gender on forms, according to the report. Systems often recognize the individual as a different person even when addresses, birth dates, and all other biographical information match.
The PILF report also uncovered 1,514 registered Detroit-area voters were listed as 105 years of age or older. Of these unlikely living voters, 1,244 registered in the Motor City; 20 of them claimed they were born in the 1800s. Flint followed with 202 centenarian voters on their rolls; 50 of them allegedly born in the 19th Century.
Michigan does not have a verification system to prevent false claims of citizenship, intentional or otherwise, from being accepted during voter registration, according to PILF. The watchdog organization suggested citizenship verification as one simple solution to close off voter registration from noncitizens. It also recommended enhanced information-sharing procedures with immigration and customs agencies.
In the report, PILF addressed "voter fraud deniers" like the Brennan Center which insist noncitizen registration and voting is rare or nonexistent and media claims that voter registration changes eradicated noncitizen voting:
They are wrong. The facts are clear: noncitizens are registered to vote in Michigan and throughout the country, by the thousands at a minimum.
This year, the Government Accountability Institute (GAI) discovered 170 registered voters were listed as 116 years old and older in Ohio's 12th Congressional district. In 2016, the GAI found 2,100 double-votes in Florida, meaning that certain individuals living in the Sunshine State cast a ballot and then voted again in another state.
Follow Merrill Hope, a member of the original Breitbart Texas team, on Twitter.
http://feedproxy.google.com/~r/breitbart/~3/h3HHKj1Gues/