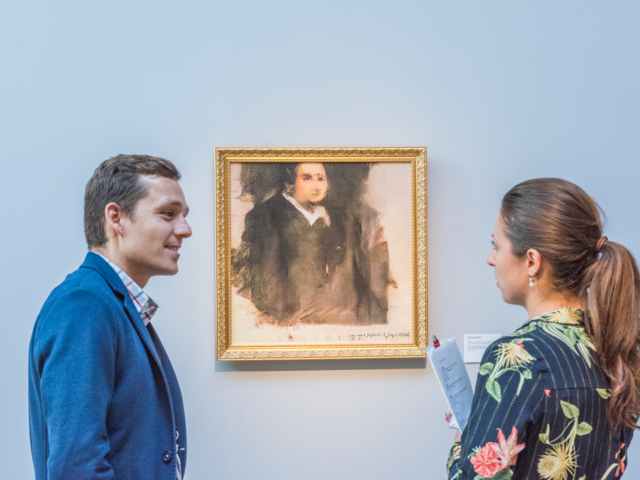 A painting portraying a man created completely by artificial intelligence sold for $432,000 at auction this week.
The painting, titled Portrait of Edmond Belamy, was auctioned at Christie's auction house, and was estimated to sell for between $7,000 and $10,000 — but ended up selling for $432,000.
"The portrait in its gilt frame depicts a portly gentleman, possibly French and — to judge by his dark frockcoat and plain white collar — a man of the church. The work appears unfinished: the facial features are somewhat indistinct and there are blank areas of canvas. Oddly, the whole composition is displaced slightly to the north-west," explained Christie's auction house. "This portrait, however, is not the product of a human mind. It was created by an artificial intelligence, an algorithm defined by that algebraic formula with its many parentheses."
Notably, the portrait is signed with a mathematical formula in place of the customary artist's signature.
The painting is just one of several generated by the French art collective Obvious, who describe themselves as a "collective of friends, artists, and researchers, driven by a common sensibility regarding questions bounded to the increasing advent of Artificial Intelligence and Machine Learning."
Using artificial intelligence, Obvious has also created portraits of ten other members of the fictional Belamy family.
In a statement, Christie's Richard Lloyd declared, "AI is just one of several technologies that will have an impact on the art market of the future — although it is far too early to predict what those changes might be."
Artificial intelligence has previously been used to generate horror stories and folk music.
"People are reluctant to believe machines can be creative – it's seen as a very human trait," declared Kingston University London lecturer Dr. Oded Ben-Tal in 2017, after artificial intelligence was able to compose over 100,000 folk songs. "However, the fact of the matter is, technology and creativity have been interconnected for a long time and this is just another step in that direction."
http://feedproxy.google.com/~r/breitbart/~3/ZOabwn1Cm0k/