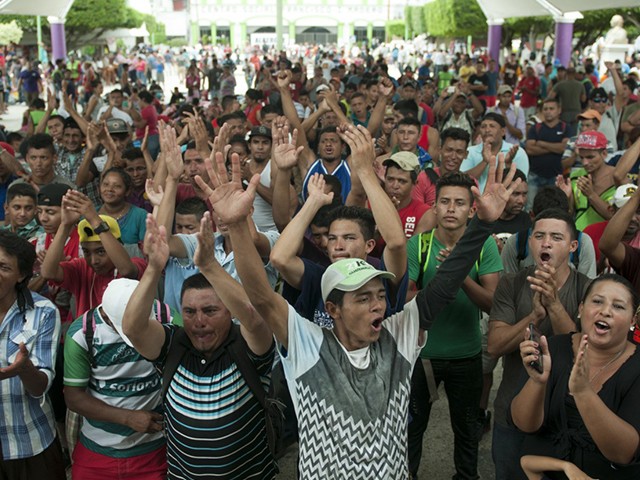 Art Arthur, resident fellow in law and policy at the Center for Immigration Studies, explained how migrants use a "torture loophole" to gain access to the U.S.
He offered his remarks in a Monday interview with Breitbart News Senior Editors-at-Large Rebecca Mansour and Joel Pollak on SiriusXM's Breitbart News Tonight.
Arthur's analysis was made against the backdrop of an approaching caravan of migrants — originating in Central America — demanding entry to the U.S.
LISTEN:
Arthur said migrants claiming to have a "credible fear of torture" in their countries of origin are typically given entry to American by immigration authorities. They then typically spend years in the U.S. awaiting adjudication of their claims.
In July, Attorney General Jeff Sessions directed border officers to reject asylum requests from migrants claiming a "credible fear" of violence or torture from non-state actors such as gangs or abusive spouses.
Arthur said, "Anecdotally, we've heard that a lot of people have been converting their claims from 'I'm being harmed because of the gangs' to 'I'm being harmed because I'm the family member of somebody who's being threatened in a gang.' So that has very much blunted Attorney General Jeff Sessions's ruling in the matter of [asylum protection] because familial relationships are memberships in a particular social group that's been recognized for years."
Mansour said, "Many of [these asylum claims] on their face are bogus, because they're just coming here for economic reasons. This is not any sort of credible fear. … There's no way to check their claims, so they're just saying these things."
Arthur added, "There's nothing in the expedited removal provision that says that asylum officers are supposed to check for a credible fear of torture. In fact, at the time that this expedited removal [and] credible fear provision was passed, we didn't even have the torture convention rules we have. That's sort of been added on and every person who's been harmed all of a sudden makes their way through the system, because the asylum officer refers it over to the immigration judge to determine whether that constitutes torture as that term is defined."
Arthur recommending empowering Department of Homeland Security officials to make determinations on the validity of "credible fear" claims made by migrants requesting asylum.
Arthur stated, "What needs to happen is we need to return the torture determination back to DHS, back to the adjudicating official before that individual gets returned to their country. … Because these torture claims all end up in immigration court, and … quite frankly, MS-13 is not working by or at the instigation of, or with the consent or acquiescence of the government of El Salvador, Honduras, or Guatemala, but that is the question the asylum officer hands off to the immigration judge for the immigration judge to determine.
Arthur noted how adjudication of asylum claims typically takes years, during which time migrants often anchor themselves to America with children and property.
Arthur continued, "[They] go through five continuances, and six years later finally there's a decision made, 'No, of course not, MS-13 isn't acting on behalf of the El Salvadoran government,' so the claim is denied, but by then the person has been in the United States for six years, they probably have a couple of kids, they have equities in the United States, and the entire situation has changed. Maybe they've even purchased property, they're now valued members of society, they're got a boss that's going to say, 'No, you can't possibly take my worker away from me. This is going to hurt me.'"
Arthur went on, "This is the great weakness in the system, and this is the weakness President Trump says the Democrats refuse to respond to, and he's absolutely right. … The Republicans have attempted to address this issue in a number of bills that have been brought up to the House floor this year, and Democrats haven't voted for any of them. In this, the president is correct. Both parties need to come together to resolve this issue, but one just doesn't have any great interest in doing so."
The majority — 75 to 90 percent — of migrants requesting asylum via the "torture loophole" remain in the U.S. for years awaiting adjudication of their claims, said Arthur.
Arthur remarked, "If you are apprehended at a port of entry without proper documents within or you're apprehended shortly within 14 days and 100 miles of the border — crossing the border illegally — then you have the opportunity to apply for credible fear, and if you're found to have credible fear … 75 to 90 percent of all these cases, and again, keep in mind a lot of that has to do with this torture loophole, are found to have credible fear then they get to come into the United States and make an asylum claim."
Arthur explained how children are used by migrants to evade longer detentions given existing laws.
Arthur said, "The [migrants] who are adults will likely will be detained, at least for a period of time. The ones who are adults travelling with children will be given a credible fear interview and will probably be released within about 20 days, which is exactly what they want to do, which is why you see people traveling with children, because they know if they are traveling with children that they're actually not going to be detained much longer than that."
Migrants granted entry to the U.S. via asylum requests often avoid coming to court for adjudication of their claims. "They don't have incentive [to show up for court]," said Arthur.
Breitbart News Tonight broadcasts live on SiriusXM Patriot channel 125 weeknights from 9:00 p.m. to midnight Eastern or 6:00 p.m. to 9:00 p.m. Pacific.
Follow Robert Kraychik on Twitter.
http://feedproxy.google.com/~r/breitbart/~3/b3eWYqdEqqU/