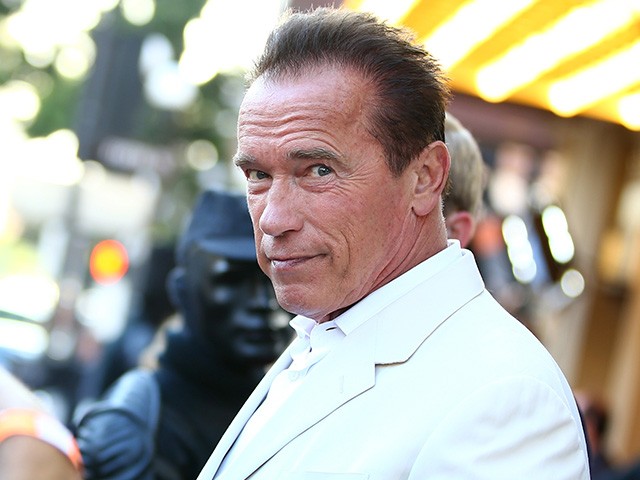 Actor and environmental activist Arnold Schwarzenegger admitted in an interview released Tuesday with Men's Health magazine that he "stepped over the line" multiple times with women — an admission which comes nearly 15 years after the former bodybuilder denied accusations of sexual assault while running for the governor of California.
While campaigning in Fresno in 2003, Arnold Schwarzenegger was pressed about an infamous 1977 interview with now-defunct Oui magazine, in which he boasted about his sex life and drug usage. In the interview, Schwarzenegger described an incident where multiple bodybuilders "jumped" on a woman and whisked her upstairs to engage in group sex. "Everybody jumped on her and took her upstairs, where we all got together in an orgy," he told the outlet.
As Gawker reported in 2011, Schwarzenegger's past is chalked full of alleged sexually deviant behavior:
In 2000, according to Premiere, after British journalist Anne Richardson interviewed him, he "tweaked her nipple" in an attempt to determine whether her breasts were real. During the filming of Terminator 2 in 1991, he abruptly lifted his co-star Linda Hamilton—who was dating director James Cameron at the time—on to his lap during a limo ride with Cameron in the car "and began fondling her breasts through the very thin top she was wearing." In 1975, according to the Los Angeles Times, he sneaked up behind a 19-year-old girl sitting on a workout bench, "reached under her T-shirt and touched her bare left breast." In 1980, he saw an acquaintance on the street, called her over to his car, and "grabbed and squeezed" her breast. On the set of T2, he asked a female crew member, "Have you ever had a man slide his tongue in your [anus]?" In the late 1980s, he told a waitress, "I want you to go in the bathroom, stick your finger in your [vagina], and bring it out to me." None of this counted as cheating on Shriver, however. According to Spy, Schwarzenegger plays Clinton rules: "It's not cheating. It's only a plo-job."
Reflecting on his bodybuilding days, the Terminator star says, "Looking back, I stepped over the line several times, and I was the first one to say sorry."
"I feel bad about it, and I apologize. When I became governor, I wanted to make sure that no one, including me, ever makes this mistake," Schwarzenegger told the men's lifestyle magazine. "That's why we took sexual-harassment courses, to have a clear understanding, from a legal point of view and also from a regular behavior point of view, of what is accepted and what is not."
Despite masculinity becoming increasingly frowned upon in today's politically correct culture, Schwarzenegger says manliness will forever be a part of his identity.
"I'm a guy," he told the magazine. "I would not change my view of who I am. The woman I was originally most in love with was my mother."
"I respected her, and she was a fantastic woman," the actor added. "I always had respect for women."
In the same interview, Schwarzenegger apologized for mocking political rivals as "girlie men," an insult he now believes was "shortsighted" because it made working with opposing lawmakers more difficult.
"At the time it felt like the right thing to do. It was in my gut. I improvised it. I called them girlie men because they weren't willing to take risks," he said.
"They were afraid of everything," the activist added. "Politicians, in general, want to do little things, so there's no risk involved."
"If you have a little sense of history, you know that the best things are accomplished when both parties work together and start compromising like Ronald Reagan did with Tip O'Neill," the former governor explained. "They argued in public and attacked each other, but with a little wink. That's why so much got done in the Reagan administration. When you can reach out across the aisle and work together, you can get much more accomplished, rather than 'girlie men' or 'fuck you' or 'it's my way or the highway.'"
http://feedproxy.google.com/~r/breitbart/~3/OTsjen_ipoc/