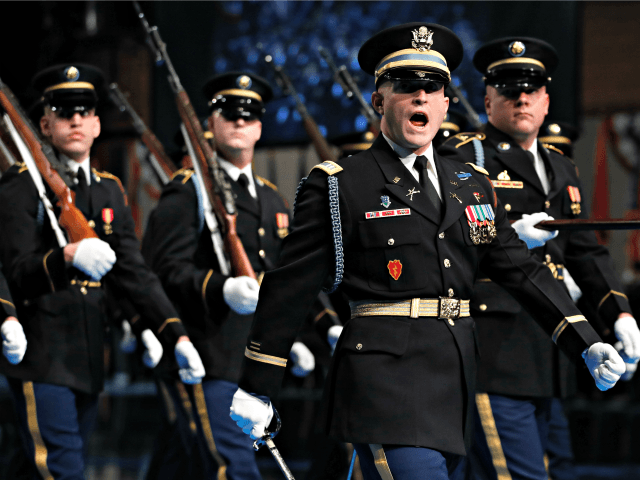 Army Secretary Mark Esper opened the annual Association of the U.S. Army conference on Monday ushering in a "renaissance" of the Army, calling for reform in how the Army prepares to fight future wars.
"Seventeen consecutive years of irregular war, extended periods of budget uncertainty, and then an increasingly complex security environment  have eroded our competitive edge. Our adversaries, meanwhile, have taken advantage of this to better their positions," Esper said at the conference.
"In response, we are moving out across a number of fronts, to improve readiness, increase lethality, and modernize the force," he said. "These efforts amount to nothing short of an Army renaissance — a renaissance that represents a renewal in how the Army envisions and prepares for future conflict."
Esper said as part of this renaissance, the Army has extended initial training for infantry soldiers by two months and will do the same for the armor and engineer branches and others in the future. The Army has also instituted the Army Combat Fitness Test, which helps soldiers better train for combat than the current test.
"The future battlefield will be unrelenting," Esper said. "So our force, regardless of age or gender, must be physically and mentally tough."
He said the Army is also developing a new generation of weapons and equipment to "guarantee overmatch for years to come," he said.
"We expect to have prototypes of the next generation combat vehicle, squad-automatic weapon, mobile short-range air defense system, and a strategic long-range cannon within the next few years," he said.
He said Army Futures Command — the Army's first new four-star command established since the 1970s — is "promptly moving out to unify and focus the Army's modernization enterprise."
The Army is also modernizing its doctrine, and will soon release the next evolution of multi-domain operations doctrine, which will describe how the Army will fight in all domains — air, sea, land, space, and cyber.
"The importance of the space and cyber domains has rendered the Air-Land-Battle doctrine inadequate, if not obsolete. The military domains have become too interconnected to fight each in isolation," he said.
Esper said Army units would be strengthened with added capabilities. Corps will be supplemented with electronic warfare companies, divisions will receive greater long-range fires and air defense assets, and brigades will take control of cyber and electronic warfare teams.
Esper said the Army will also have to reform its personnel and recruiting systems.
For example, he said onerous mandatory training tasks for junior leaders has hurt the ability to build ready, lethal units. "As part of this process we will continue to eliminate and reduce these mandatory requirements, " Esper said to loud cheering from the audience.
He said the Army would also reform its personnel system to better leverage soldiers' knowledge, skill, behaviors, and preferences. The Army's talent management task force is developing a new system that relies "far less on set timelines, centralized management, and cookie-cutter career paths," he said to more loud cheering.
The Army also needs to rethink its recruiting strategy, he said.
"While only 29 percent of America's youth meet our entry requirements, only four percent of that pool have the propensity to serve," he said. Thus, the Army would broaden its reach across America and focus on major cities, with a much greater presence on social media, while continuing efforts in traditional locales.
"Americans need to know their Army, but it's on us to get out and meet them," he said.
Esper said he and Army Chief of Staff Gen. Mark Milley are "taking a hard look" to align the Army's budget with the National Defense Strategy, which focuses on the challenges from great power competitors like Russia and China.
He said he and Milley have found over $25 billion in savings that can be reinvested into rebuilding readiness and modernizing the Army.
Esper said he is not under the illusion that change would come easy, and appealed to the audience of soldiers, veterans, and stakeholders, to help the Army undertake reform.
"We need your help. All too often, the 'not my program' attitudes, 'this function is too critical' rationales, and 'we can't do it' excuses begin to appear, 'reform seems important, but it's something for others to do.' We need everyone to overcome any and every hesitation to change," he said.
"Because the need to reform is too great, and its benefits too important. Ultimately the success of our renaissance and the success of our Army depends on it," he said.
http://feedproxy.google.com/~r/breitbart/~3/gpt-AtAxKYA/