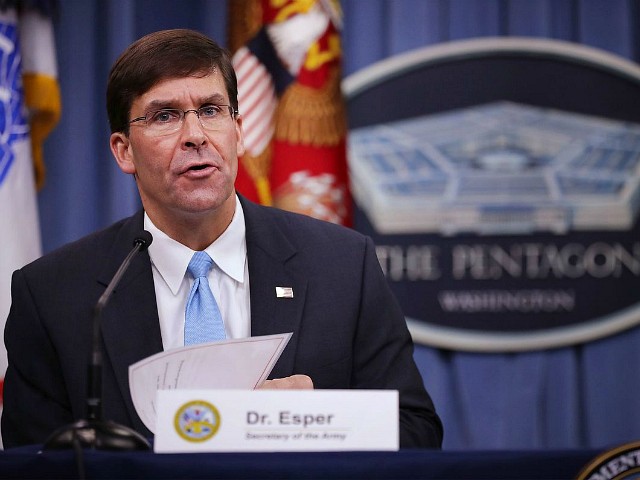 A Pentagon program for immigrants who can bring critical skills into the U.S. military in exchange for citizenship accepts over 80 percent of recruits, according to Army Secretary Mark Esper, contrary to reports that suggest the Pentagon has been increasingly rejecting applicants.
"When you step back and look at the stats … over 80 percent are granted," Esper said.
The Pentagon has come under fire for recent reports that suggest it is discharging immigrants from the program, known as Military Accessions Vital to the National Interest, or MAVNI. Since 2009, the program has enlisted more than 10,000 immigrants who either have critical language or medical skills.
However, the program, created during the Bush administration, hit trouble when the Obama administration ordered the Pentagon program in 2014 to begin accepting beneficiaries of the Deferred Action for Childhood Arrivals (DACA) policy. The MAVNI program was originally written to take in those who were legal immigrants, not undocumented immigrants. The program needed to be retooled and ground to halt.
The founder of the program, retired Army Lt. Col. Margaret Stock, told Politico in 2014, "It's a major bureaucratic screw-up by the Obama administration."
The Obama administration in September 2016 added additional security measures for recruits and halted the acceptance of any new applicants. Since then, the Pentagon has been working on reducing a backlog of thousands who were grandfathered into the program and awaiting their background checks.
However, a slew of reports this year have suggested that recruits are being dropped from the program as part of the Trump administration's anti-immigration stance.
But Pentagon officials say rejections from the program have nothing to do with immigration and have to do with national security.
"There are no individuals being either released from their contracts or separated from the military due to their immigration status. The issues with the MAVNI pilot program are not about immigration, they are about national security," Pentagon spokeswoman Air Force Maj. Carla Gleason said.
For example, Gleason said a "number" of individuals entered the military after receiving fraudulent visas to attend universities that did not exist.
In addition, she said some MAVNI recruits attended, and later falsified transcripts from, universities owned by a "Foreign National Security agency and a State Sponsored Intelligence Organization." In one case, most of the university classmates of one MAVNI recruit later worked for the same State Sponsored Intelligence Organization.
She said one MAVNI recruit who entered the U.S. on a student visa professed support for 9/11 terrorists and said he would voluntarily help China in a crisis situation. One MAVNI applicant failed to list foreign contacts from Eastern Europe and Russia, even though his father manages the military department of a foreign factory and his brother-in-law worked for a foreign political party.
"Since 2013, more than 20 individuals who accessed via the MAVNI program have become the subjects of DoD and/or FBI counterintelligence and/or criminal investigations," Gleason said.
Several dozen recruits have sued the Pentagon for being discharged. The Army has reversed those discharges as they review whether the screening process needs any fixes.
Gleason said that since MAVNI recruits are foreign nationals who are not permanent residents of the U.S., the required security screening can be difficult and time-consuming due to the Pentagon's limited ability to verify information in the individual's home country.
"If a background investigation reveals information that disqualifies a MAVNI recruit, that recruit, like any other recruit with a similar disqualification, is either released from his/her enlistment contract or separated from his/her respective service," she said.
"Two of three applicants on average make it through the security screening process and go on to serve," she added.
Pentagon officials say it is unlikely they will begin accepting any new applicants to the program, but they are continuing to work the backlog.
"So the program continues — it's not fast enough, the process doesn't move fast enough for them, it doesn't move fast enough for the Army," Esper said.
"But we're committed to continuing forward with the program, executing the program however [the Office of the Secretary of Defense] shapes it and runs it and being as expeditious and fair and transparent as possible. That's our commitment moving forward," he said.
Gleason noted that the MAVNI program is only one way for immigrants to serve in the U.S. military. She said foreign nationals who are either aliens lawfully admitted for permanent residence (green card holders) or individuals from one of the Compact States may enlist in the military.
She said that as of May 2018, there were 19,800 non-US Citizens serving on active duty.
http://feedproxy.google.com/~r/breitbart/~3/7_Xu8XxKybo/