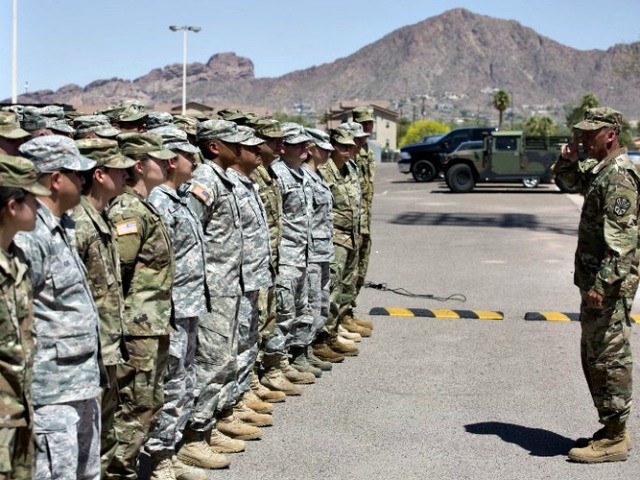 A U.S. Army command undercut a Monday report by Politico suggesting that the military would start sending border troops home next week — just as migrants gather at the border — and that all troops would be home by Christmas.
On Tuesday, U.S. Army North — which manages soldiers within the United States — sent out an email saying:
We are continually assessing our resources and refining requirements in close coordination with DHS. We may shift some forces to other areas of the border to engineering support missions in California and other areas. No specific timeline for redeployment has been determined. We will provide more details as they become available.
The email was prompted by a Monday, November 19, report from Politico:
The general overseeing the deployment told POLITICO on Monday that the first troops will start heading home in the coming days as some are already unneeded, having completed the missions for which they were sent. The returning service members include engineering and logistics units whose jobs included placing concertina wire and other barriers to limit access to ports of entry at the U.S.-Mexico border.

All the troops should be home by Christmas, as originally expected, Army Lt. Gen. Jeffrey Buchanan said in an interview Monday.

"Our end date right now is 15 December, and I've got no indications from anybody that we'll go beyond that," said Buchanan, who leads the land forces of U.S. Northern Command.
The general's statement that his orders extended to December 15 was widely touted by progressives as official confirmation that President Donald Trump's deployment of troops to the border was merely an election-campaign stunt to magnify public fears about the caravan of economic migrants heading to the United States.
Military Times reported the reaction to the Politico article:
[T]he incoming [Democratic] chairman of the House Armed Services Committee said the operation was racially motivated, had politicized the military, and called for the troops to be pulled back home.

"The reports that President Trump is planning to withdraw some of the troops he sent to the border two weeks ago indicate just how empty, demagogic and racially motivated this political stunt was," said Rep. Adam Smith, D-Wash. "It appears to be an admission that there was no justification for the mission in the first place. It was not a respectful use of our military to take service members away from their duties and send them to the border as politicized props, and President Trump should not have done it."
But the military deploys forces to an operation, moves them around in response to the tactical situation, and also rotates troops back to their base as replacement units arrive. Buchanan's statement did not say there would be no movement of replacement troops to the border or that no troops would be deployed at the border during Christmas.
Other Democrats rushed to join the condemnation:
Deploy to southwest border.
Put the concertina wire up.
Take the concertina wire down.

Mission Accomplished. https://t.co/tGs59nJEs7

— Amy McGrath (@AmyMcGrathKY) November 20, 2018
The least noble among us, @realDonaldTrump, announces our 5000 troops serving as political props on our southern border will be home for Christmas. We continue to test new lows for this POTUS. He won't visit troops in combat zones (still got those spurs). #NeverTrump

— Major General (ret) Paul Eaton (@PaulDEaton52) November 19, 2018
This should be an issue for everyone: an American President using troop deployment as an election tactic. The caravan still hadn't arrived. It was all for show. Troops at U.S.-Mexican border to start coming home – POLITICO https://t.co/LjY3v48qrp

— Michelle Zink (@MichelleZink) November 19, 2018
Trump's toy soldiers used for a political stunt based on a series of #Trump lies … are expected to be home by Christmas. No thanks to our Cheeto Jesus.
https://t.co/gdq70G4zDz

— John Moffitt (@JohnRMoffitt) November 19, 2018
http://feedproxy.google.com/~r/breitbart/~3/OZBoZ9GHxr0/