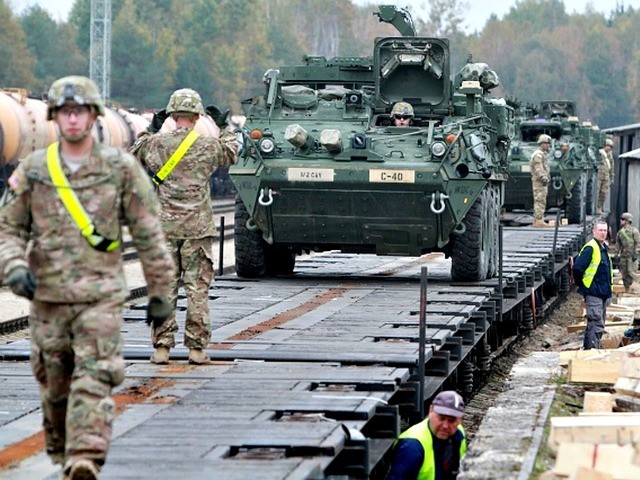 Chairmen of the House and Senate Armed Services Committees Mac Thornberry (R-TX) and Jim Inhofe (R-OK), who oversee the yearly passage of the defense budget, implored the Trump administration not to go through with a potential $33 billion cut to the 2020 defense budget in an op-ed published in the Wall Street Journal Friday.
The Pentagon has been preparing for months to request a $733 billion defense budget from Congress by February 4, but recent remarks from the president has put that in doubt. Facing pressure on shrinking the nation's debt, Trump in October told reporters that the defense budget request would "probably be $700 billion" — a 2.3 percent cut from the planned $733 billion.
Pentagon officials say they will submit both a $700 billion and a $733 billion budget and discuss what the trade-offs would be.
Thornberry and Inhofe's op-ed indicates they will fight for the higher number.
They argued that the Obama administration had depleted the military by asking a shrinking force with aging equipment and declining budgets to fight wars and perform other missions around the world. They acknowledged that gridlock on Capitol Hill contributed to the problem. "The result was a readiness crisis with tragic, sometimes fatal consequences for American troops," they said.
The Trump administration's defense budgets of $700 billion in 2018 and $716 billion in 2019 had helped put the military on a better path, they argued. "His first two budget requests focused on restoring America's military advantage. Congress followed through this year. For the first time in a decade, we funded the troops in full and on time," they wrote.
A "last-minute directive" to cut $33 billion would be "dangerous," they argued, since the Pentagon would cut from areas that could be trimmed fastest and easiest — troop levels, new equipment, training, and maintenance. Doing so would diminish the capability to stay ahead of China and Russia, they argued.
They said China and Russia have rapidly modernized their militaries, and the U.S. advantage has eroded in the key areas of power projection, cyberdefense, space, electronic warfare, air and missile defense, antisubmarine warfare, and long-range ground-based fires.
They referenced a recent report by the bipartisan National Defense Strategy Commission that said the U.S. currently "might struggle to win, or perhaps lose, a war against China or Russia."
Thornberry and Inhofe said they are also concerned by the growing national debt, but argued the budget should not be balanced "on the backs of America's troops."
"Some Democrats may embrace this cut, seeking tax dollars to spend on their own priorities," they argued. "But cutting defense will not close the deficit. The deficit would keep growing even if we eliminated the entire Pentagon budget."
"The president and Congress should not be duped into a false choice: rebuild our military or accept deep and growing deficits. This was a foolish argument when President Obama made it, and it hasn't improved with age," they said.
They acknowledged "there is money to be saved in the Pentagon," but said it should be done through deliberate reforms, and not last-minute cuts.
"Too much is at stake. This is a time to follow through on the progress of the past two years and give our troops the sustained, sufficient, predictable funding they deserve," they said.
http://feedproxy.google.com/~r/breitbart/~3/JZS-ZEdN6E8/