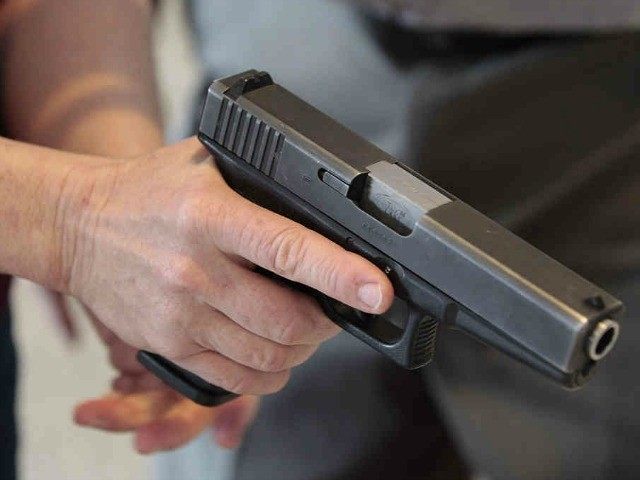 An armed neighbor in Clarksville, Indiana, intervened Tuesday night and killed a man who was allegedly assaulting a mother and her daughter.
Wave 3 reports that the incident occurred at approximately 10 pm. Police indicate a man was allegedly "beating a woman and her young daughter when a neighbor attempted to break up the fight." The neighbor approached the alleged attacker at gunpoint and ordered him to stop. The attacker complied for a time then allegedly attempted to attack the neighbor, at which point, the neighbor shot him dead.
According to WDRB, Clarksville Police Chief Mark Palmer indicates that witnesses said the suspect had "battered" the young daughter and that he was allegedly "kicking and beating the woman" when the neighbor stepped in.
Clark County Prosecutor Jeremy Mull said: "Based upon what we learned last night, I'm of the belief that it was self-defense, that it was justified under the law and therefore there was no arrest made in the case. In a case where an individual was acting violently and had just violently assaulted a child and a defenseless lady. Due to [the neighbor's] intervention, that assault was terminated and this individual was ultimately killed in an act of self-defense."
AWR Hawkins is an award-winning Second Amendment columnist for Breitbart News, the host of the Breitbart podcast Bullets with AWR Hawkins, and the writer/curator of Down Range with AWR Hawkins, a weekly newsletter focused on all things Second Amendment, also for Breitbart News. He is the political analyst for Armed American Radio. Follow him on Twitter: @AWRHawkins. Reach him directly at awrhawkins@breitbart.com. Sign up to get Down Range at breitbart.com/downrange.
http://feedproxy.google.com/~r/breitbart/~3/-s9fx8ZNMvI/