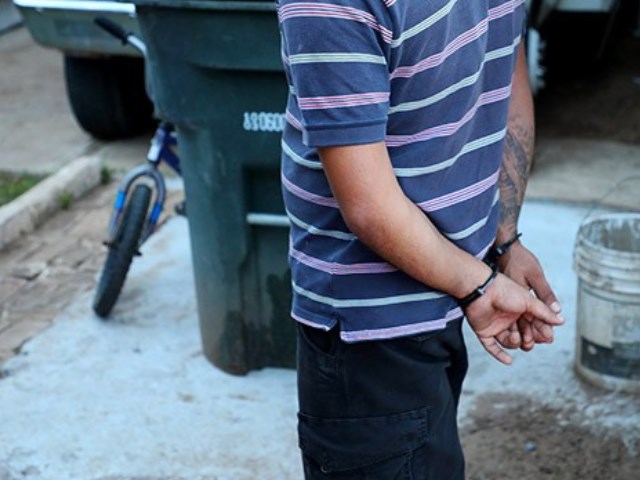 Border Patrol agents assigned to the Laredo Sector apprehended nearly 700 Bangladeshi nationals during Fiscal Year 2018. This represents an increase of nearly 270 percent over the previous year's total.
During the fiscal year that ended Sunday night, Laredo Sector Border Patrol agents arrested 668 Bangladeshi nationals after they illegally crossed the border from Mexico, Laredo Sector officials told Breitbart Texas. The sector led the nation throughout Fiscal Year 2018 in the apprehension of these migrants who paid up to $27,000 each to be smuggled into the U.S. by cartel-connected human smugglers.
"In Fiscal Year 2018, Laredo Sector Border Patrol experienced an unprecedented increase in the apprehension of nationals from the country of Bangladesh," Laredo Sector Chief Patrol Agent Felix Chavez said in response to an inquiry from Breitbart Texas. "The almost 300% increase in arrests of Bangladeshi nationals over the previous fiscal year highlights the hard work and vigilance of the men and women of the U.S. Border Patrol. We will continue to work with our federal and international partners to share information to stop the flow of those who seek to unlawfully circumvent our nation's immigration policies."
The apprehensions from a country with ties to terrorism brought serious concerns to leadership in the sector and to rank-and-file Border Patrol agents.
"When you have countries like Bangladesh that have had potential ties to terrorism in the past — well, these folks that are coming from that country, what is their intent when they are crossing into the United States illegally?" Laredo Sector Deputy Chief Patrol Agent Jason D. Owens told Breitbart Texas during a phone interview earlier this year. "What is their ultimate destination? What is their goal?"
Border Patrol Agent Hector Garza, in his capacity as president of the National Border Patrol Council Local 2455, told Breitbart Texas in an interview earlier this year that the apprehensions in the Laredo sector show there is a "clear pipeline" from countries that are home to terrorists through Mexico and into the U.S.
"We have been lucky to catch these groups but there is no telling how many other people from countries that sponsor terrorism could be utilizing that same pipeline," Agent Garza stated.
Another Laredo Sector agent who wished to remain anonymous told Breitbart Texas, "Even if these particular migrants have the best of intentions, others who might have bad intentions could be utilizing the same travel pipeline to reach the U.S."
The Bangladeshi nationals arrested in Fiscal Year 2018 represent a 269 percent increase over the previous fiscal year's total of 181. More than 60 percent of those migrants crossed the border in the last four months of the year. It took nearly eight months for the total to reach 251 in late May 2018, Breitbart Texas reported.
Hundreds of miles of open river border in south and central Texas make the area a prime human smuggling corridor for Mexican cartels who charge the Bangladeshi nationals approximately $27,000 each for passage.
Because of the open borders in this and the Del Rio Sector, large numbers of what Border Patrol officials refer to as "Special Interest Aliens" have made their way into this part of Texas. Special Interest Aliens include illegal immigrants from countries with connections to terrorism.
Breitbart Texas broke the news on Monday that a Pakistani national was caught sneaking across the border in the Del Rio Sector. A trusted source operating under the umbrella of U.S. Customs and Border Protection (CBP) spoke with Breitbart Texas under the condition of anonymity and initially reported that agents assigned to the Comstock Station discovered a Pakistani national attempting to hide and avoid apprehension. The source said the Pakistani man was not attempting to turn himself in to seek asylum but was attempting to avoid detection. Del Rio Sector officials later confirmed the apprehension of the 34-year-old Pakistani male.
In May, Border Patrol officials in the Laredo Sector sounded the alarm when two Syrian nationals were apprehended after sneaking into Texas from Mexico. Agents working near the Santa Rita Subdivision in Laredo encountered three men who crossed the Rio Grande River from Mexico. The agents arrested the men and took them to the station for processing. An interview revealed they traveled to Mexico from Syria and Bangladesh.
In late June, Laredo Sector agents arrested an Iranian national after he attempted to sneak into Laredo near Highway 83, where there is no physical barrier separating Laredo from Nuevo Laredo, Mexico.
"This was something we hadn't seen in more than a year," Chief Owens told Breitbart Texas in a phone interview. Owens said that unlike the Bangladeshi nationals, the Iranian was not attempting to turn himself in. "He was attempting to evade detection and apprehension by our agents," the sector chief explained.
Bob Price serves as associate editor and senior political news contributor for Breitbart Texas. He is a founding member of the Breitbart Texas team. Follow him on Twitter @BobPriceBBTX, GAB, and Facebook.
(Disclosure: Breitbart Texas sponsored the Green Line podcast for the NBPC in an effort to provide a platform for agents to inform the public about the realities on the border and what Border Patrol agents face. Director Brandon Darby received an award from the Laredo chapter of the NBPC for his work in helping to defend and bring a voice to Border Patrol agents. Breitbart News assisted in covering funeral costs for a slain Border Patrol agent previously.)
Editor's Note: This article has been updated with a statement from Laredo Sector Chief Patrol agent Felix Chavez.
http://feedproxy.google.com/~r/breitbart/~3/jstQLEhkMoc/