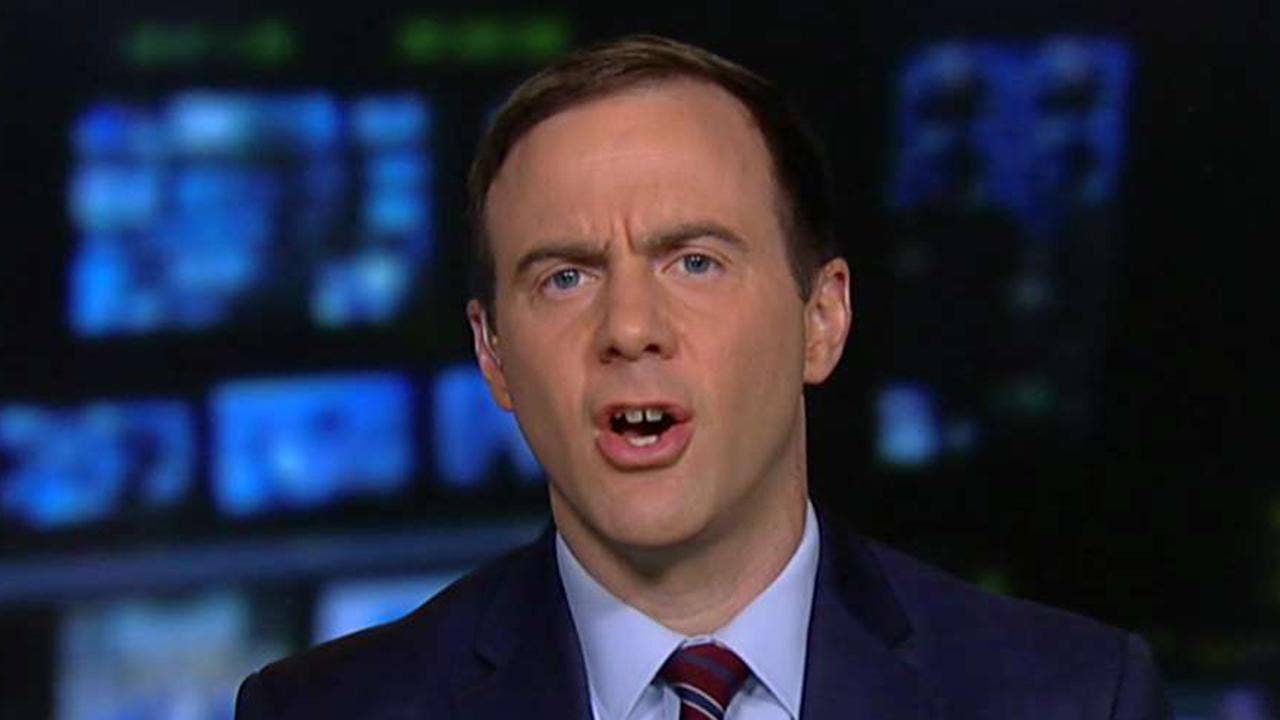 The son of late Supreme Court Associate Justice Antonin Scalia told Fox News on Sunday that his father wouldn't have been shocked by the partisan conflagration surrounding the nomination of Judge Brett Kavanaugh, owing to what he called the improperly outsized power of the Supreme Court in modern life.
"On a general level, he wouldn't be terribly surprised about the intensity surrounding this Supreme Court nomination, because so much of it comes down to Roe v. Wade — at least, that's how the left is presenting it," Christopher Scalia said, referring to the landmark 1973 case holding that women have a constitutional right to an abortion within certain trimesters.
In one fell swoop, Roe effectively prevented states from deciding on their own how to regulate abortion, and several states immediately took steps to try to restrict abortion rights in response.
"My father often said, with Roe v. Wade in particular but other cases as well, the court was really trying to come in and settle a cultural issue that should have been resolved in elections, and the legislative process," he added. "By trying to short-circuit that process, the Supreme Court caused more damage and, as a result, Supreme Court nominations and confirmation battles have become more heated, because justices have taken on the role that properly belongs to legislators."
Nebraska Republican Sen. Ben Sasse made a similar point during Kavanaugh's confirmation hearings earlier this month, when he reiterated that Congress often delegates excessive authority to mostly unaccountable executive branch agencies and improperly leaves the resulting bureaucratic uncertainties to the Supreme Court to resolve — effectively making the justices supplemental legislators doing a job abdicated by senators.
DEMS WARN OF DEATHS OF 'COUNTLESS WOMEN' AS SOON AS KAVANUAGH NOMINATION ANNOUNCED
Hundreds of protesters were arrested and charged by Capitol Hill police for improperly interfering with those confirmation proceedings.
"It's really not all that rare for justices to get angry."

– Christopher Scalia
Asked whether Kavanaugh had any chance of avoiding that kind of backlash — which now centers primarily on uncorroborated allegations that he engaged in sexual misconduct decades ago — Scalia said there was likely no avoiding the uproar.
"It was pretty clear from the beginning — groups already had signs, basically fill-in-the-blank, they were doing Mad Libs protesting basically before President Trump nominated Kavanaugh specifically," Scalia said, referring to throngs of protesters who showed up at the Supreme Court on the night of Kavanaugh's nomination in July with protest signs that allowed them to write in the nominee's name on the fly.
There were also some Mad Libs-style press releases, as well. In a statement after Kavanaugh's nomination, the Women's March said ominously: "Trump's announcement today is a death sentence for thousands of women in the United States."
POLYGRAPH TEST SHOWS KAVANAUGH ACCUSER CHRISTINE FORD CHANGING STORY ON KEY FACT
In an embarrassing blunder, though, the Women's March statement began: "In response to Donald Trump's nomination of XX to the Supreme Court" — indicating that the group didn't expect to have to change its pre-written press release much.
Responding to claims that Kavanaugh shouldn't serve on the Supreme Court because of his fiery and, at times, defiant behavior during questioning about the lurid allegations against him by senators on Thursday, Scalia suggested justices don't always have calm temperaments.
"It's really not all that rare for justices to get angry," Scalia said, referencing sometimes-heated dissents in hot-button cases. "It's true that [judge] Kavanaugh was perhaps more aggressive, but that's because the circumstances were a lot different. … He was defending his good name from uncorroborated accusations."
Kavanaugh on Thursday received the approval of the Senate Judiciary Committee, by a party-line 11-10 vote, to advance to a full Senate floor vote. In a dramatic moment, Sen. Jeff Flake, R-Ariz., said he would provide his crucial swing vote in favor of Kavanaugh only if the FBI were given a one-week period in which to investigate current and credible misconduct claims against Kavanaugh.
That investigation is ongoing, and President Trump has said the agency has broad authority in the probe to interview "whoever" it wants.
http://feeds.foxnews.com/~r/foxnews/politics/~3/BDpk2NACeuE/antonin-scalia-wouldnt-be-terribly-surprised-by-mad-libs-protesting-on-kavanaugh-son-says.html