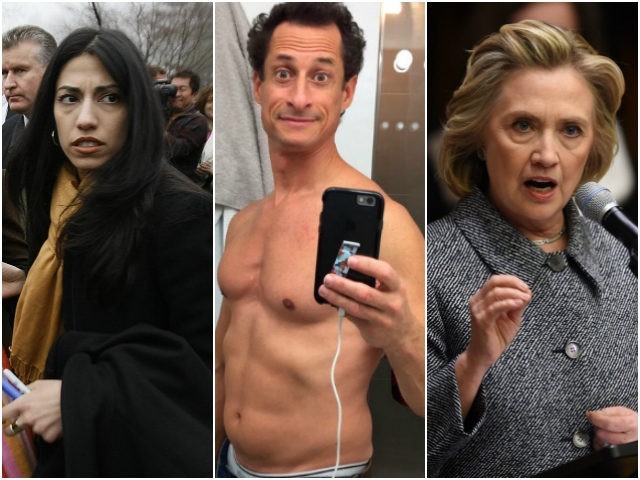 Anthony Weiner, the New York Democrat brought low by a succession of sex-soaked scandals, is set to get an early release from the prison sentence he earned for the last and most serious of them, "sexting" a 15-year-old girl in North Carolina.
A federal judge in New York sentenced Weiner to 21 months in prison after he pleaded guilty last year to a single count of sending explicit material to a minor. He reported for his sentence as a registered sex offender last October.
According to the Federal Bureau of Prisons website Monday, Weiner will not have to serve his entire sentence, which would have seen him remain at Federal Medical Center — Devens, a minimum security facility in Massachusetts, until August. His release date is now shown as May 14, indiciative of him having completed his first year in prison as "good time."
There is no parole in the federal prison system, but time a prisoner completes without serious disciplinary problems is logged as "good time" and earns the prisoner 54 days off the total sentence each year.
Donald Trump Jr. mocked the disgraced former congressman and lawyer Micheal Avenatti in a Monday tweet, suggesting with Weiner out of jail, the two could mount a presidential campaign together.
Who else is excited about Avanetti/Weiner 2020?!?

It's gonna be Carlos Dangerous. https://t.co/yLWO1D2rwx

— Donald Trump Jr. (@DonaldJTrumpJr) October 8, 2018
Weiner's fall from grace began in 2011 when Breitbart News founder Andrew Breitbart secured both a lewd image Weiner accidentally posted to Twitter and a series of explicit texts the married congressman sent to women around the country. Weiner eventually resigned his congressional seat after admitting to lying about the affair. He resurfaced "rehabilitated" in 2013 to run for mayor of New York City, only to be embroiled in yet another sexting scandal and finishing in an embarrassing fifth place in the Democratic primary.
Years later, as his wife, Huma Abedin, served as a senior adviser on Hillary Clinton's presidential campaign, Weiner faced much more serious allegations. Police in New York investigated Weiner on suspicion of having exchanged explicit messages and images with a minor. This eventually triggered a federal investigation that momentarily reopened the probe into Hillary Clinton's private email server after her unsecured emails were found on a computer seized from Weiner and his wife.
Weiner and Abedin are reportedly separated and seeking a private divorce.
http://feedproxy.google.com/~r/breitbart/~3/_cIV2nV6BNM/