Two gunmen in Mexico shot and killed a journalist who exposed political corruption in the state of Chiapas. The journalist had previously been targeted for kidnapping and death. The murder raises the death toll to 14 Mexican journalists killed in the first nine months of 2018.
The murder took place in the city of Yajalón, Chiapas when Mario Leonel Gomez Sanchez was as he left his home. Two gunmen went up to him and fired several times striking him in the midsection. Emergency medical personnel rushed the journalist to a local hospital, but he was dead on arrival. Hours after the murder, the Chiapas Attorney General's Office condemned the murder and announced that they would be handling the investigation.
Gomez worked for El Heraldo de Chiapas where he reported on political matters as well as crime. The 40-year-old journalist had been the target of threats and a failed kidnapping attempt in 2016 after he had exposed two corrupt public officials. According to the press freedom organization Article 19, in 2016 Gomez reported on the alleged embezzlement of public funds by federal congressman Leonardo Guirao Aguilar and substitute congressman Ricardo Lopez Montejo — both from Mexico's Green Party. Following the exposé, the driver of one of the congressmen contacted him on social media to threaten him. At the same time, Gomez was warned about a group of gunmen setting up an ambush to kidnap him on his way to the city's downtown area. Shortly after the threat, Gomez received protection from state authorities but the security measures in place had since been removed leaving him a vulnerable target.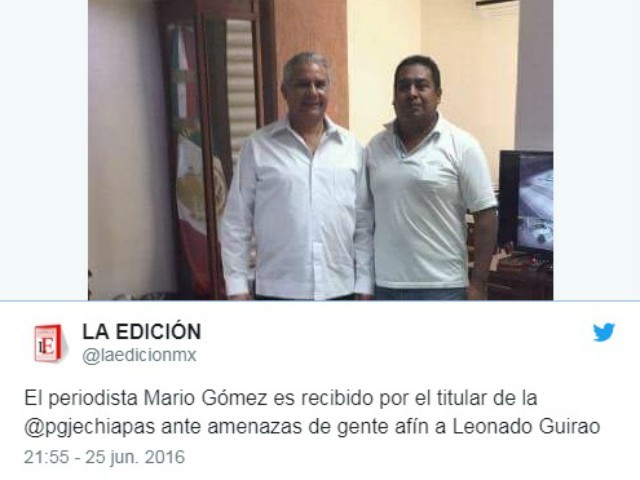 Breitbart Texas reported that 2018 is yet another deadly year for journalists and media workers:
Ildefonso Ortiz is an award-winning journalist with Breitbart Texas. He co-founded the Cartel Chronicles project with Brandon Darby and Stephen K. Bannon.  You can follow him on Twitter and on Facebook. He can be contacted at Iortiz@breitbart.com.
Brandon Darby is the managing director and editor-in-chief of Breitbart Texas. He co-founded the Cartel Chronicles project with Ildefonso Ortiz and Stephen K. Bannon. Follow him on Twitter and Facebook. He can be contacted at bdarby@breitbart.com.
Tony Aranda from the Cartel Chronicles project contributed to this report.
http://feedproxy.google.com/~r/breitbart/~3/Nk7cscpn3v0/