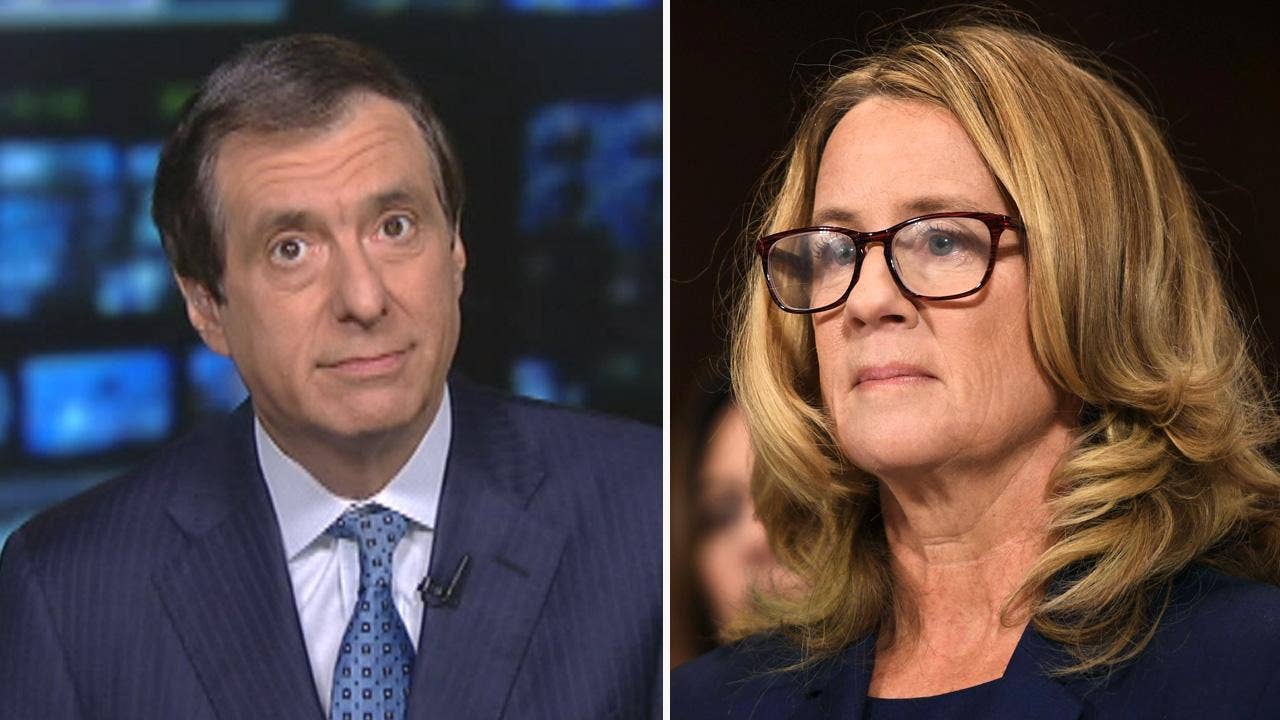 The media had Christine Blasey Ford's opening statement in advance. It didn't matter.
From the moment she announced at yesterday's Senate hearing that she was "terrified," Ford was overcome by emotion. She struggled to make it through her remarks, choking up as she recounted what she says was a sexual assault by Brett Kavanaugh at a Maryland home when both of them were in high school.
Whether or not you support Kavanaugh's nomination, whether or not you are skeptical of her account, that was extremely difficult to watch. For her, she was reliving a trauma.
Ford said she has "seen my life picked apart by people on television, in the media, and in this body who have never met me or spoken with me."
But Kavanaugh was even more emotional in his opening remarks, angry and choking back tears as he described the impact on his family, attacked the Democrats and called the confirmation process a "national disgrace."
Calling himself a victim of "character assassination," the judge told the panel: "You have replaced advise and consent with search and destroy."
It was a two-act drama fueled by passion and pathos.
By turning over their questioning to sex crimes prosecutor Rachel Mitchell, who was low-key and meandering, the Republican lawmakers avoided the awful optics of a group of men pressing an alleged victim of sexual assault. But this came at a price.
At the first break, commentators on Fox, CNN and MSNBC all pronounced Ford a credible witness. Some also said that Mitchell hadn't laid a glove on her.
It was after that break that Mitchell started pressing the California researcher on possible discrepancies in her account, but she didn't shake Ford on any fundamental details. Ford was a careful witness, correcting herself when she said, for instance, that she had since run into one person who was at the party in the early 1980s.
The testimony was punctuated by partisan squabbling between Chuck Grassley and Dianne Feinstein and other Judiciary Committee Democrats. Grassley objected to Feinstein describing allegations by other accusers and defended his handling of the hearing; Democrats pushed for an FBI investigation and to subpoena Mark Judge, the Kavanaugh friend who Ford says joined in the assault but who denies attending any such party.
Ford was asked about the potentially crucial development that two unnamed men have told the panel's Republican majority that they were the ones involved in the long-ago sexual encounter. But Ford told the panel she was "100 percent" certain it was Kavanaugh.
Mitchell wasted a whole lot of time on tangential and sometimes pointless process questions, in my view, such as Ford's fear of flying or how she decided to hire her lawyers. When she got to more fundamental questions, she was unable to chip away at the core of Ford's account.
Most Democrats used part of their allotted five minutes to praise Ford's courage and endorse her testimony, which suggests to me they didn't feel the need to play defense on specifics.
Many pundits contended that the first half of the hearing was "an unmitigated disaster for Kavanaugh," as ABC legal analyst Dan Abrams put it. I wouldn't go that far. But while Ford still lacks a corroborating witness, the Republicans did not puncture her testimony.
I'm in no way criticizing Kavanaugh's demeanor as he fought for his reputation and career. He's entitled to be angry. But his emotions, choking up and sniffling, appeared to overwhelm his testimony at the outset.
In a voice understandably transformed by anger, Kavanaugh said: "My family and my name have been totally and permanently destroyed by vicious and false additional allegations." He took a brief shot at the "gang rape" narrative in a statement from Michael Avenatti's client, Julie Swetnick, calling that a "joke."
The one moment when Kavanaugh looked like he could not continue was when he recounted how his 10-year-old daughter suggested the family pray for Ford.
Kavanaugh remained firm and at times combative under questioning from the Democrats, saying he never sexually assaulted anyone and that while occasionally he had too many beers in high school, he never blacked out.
By late in the day, Republicans took back the questioning — Lindsey Graham angrily accused the Democrats of trying to "destroy this guy's life" — and Democrats like Dick Durbin tried to pressure Kavanaugh into demanding an FBI investigation.
In the end, perhaps the waves of emotion — her anguish, his anger — canceled each other out. For Christine Ford, she was describing a nightmare that has haunted her for decades. For Brett Kavanaugh, he was combating a nightmare that came to consume his life a couple of weeks ago.
The political impact of the hearing remains unclear. Kavanaugh's fate lies with a handful of swing senators. They have to weigh the testimony under fierce pressure from a party that is determined to confirm the embattled judge.
http://feeds.foxnews.com/~r/foxnews/politics/~3/vqvYIkSpbY8/anguish-vs-anger-raw-emotion-rules-as-ford-kavanaugh-press-their-cases.html