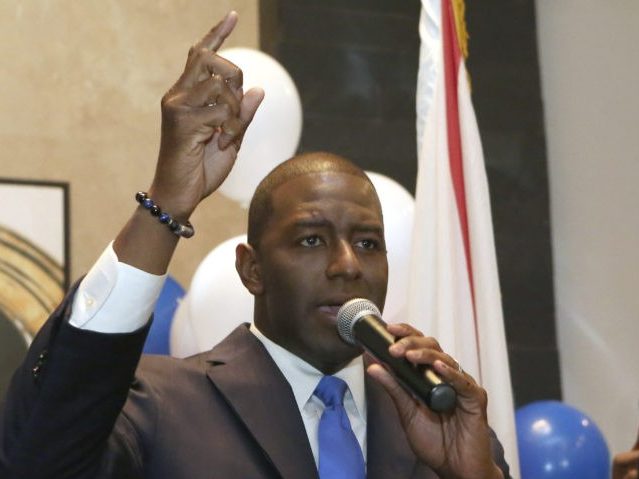 A staffer working for Florida Democratic gubernatorial candidate Andrew Gillum was fired for tweeting in favor of President Trump's execution, and wearing a shirt labeling states that voted for Trump "Dumbf**kistan."
Manny Orozco-Ballestas, the 24-year-old who used to work as a youth outreach staffer for the socialist Democratic candidate, posted a series tweets in 2012 and 2013 bashing Republicans and discussing things of a sexually graphic nature, the Tampa Bay Times reported.
"You need to be executed," read one of his tweets referring to the president. In another tweet, Orozco-Ballestas reportedly engaged in fat-shaming, saying, "If you're weighing 300 pounds+ maybe it's a good idea you stop posting all that fattening food pics on [Instagram]!"
But it was an Instagram photo of an explicit T-shirt mocking Trump-voting states that eventually led to Orozco-Ballestas' ouster.
The Florida Republican Party immediately implored Gillum to fire his staffer over the tweet.
"It is unbelievable to me that Andrew Gillum would not only employ, but promote on social media, a person who calls voters 'dumb f*cks' for electing Republicans," Florida Republican Party Chairman Blaise Ingoglia said in a statement. "It is hypocritical for Gillum to endorse the same kind of hateful, intolerant speech that he likes to denounce."
A spokeswoman for Gillum told the Times the campaign addressed the shirt with the staffer, who had worked for the campaign for no more than two weeks. The campaign added that despite the termination, they refused to "be lectured about words by the Party of Trump."
Orozco-Ballestas released a statement Saturday apologizing for the tweet.
"I am embarrassed, angry and disappointed in myself," he said. "I took social media for granted when I was younger and I am now facing the consequences. … What I tweeted as an immature student many years ago is not a reflection of the man I am today."
Gillum, who won the Florida Democratic primary by running as a socialist, was endorsed by a radical anti-capitalist organization calling for the institution of a people-centered state and accepted fundraising help from disgraced Broward County Sheriff Steve Israel.
The former Tallahassee mayor also expressed his gratitude to left-wing billionaires George Soros and Tom Steyer.
http://feedproxy.google.com/~r/breitbart/~3/EKkQki1-1SQ/