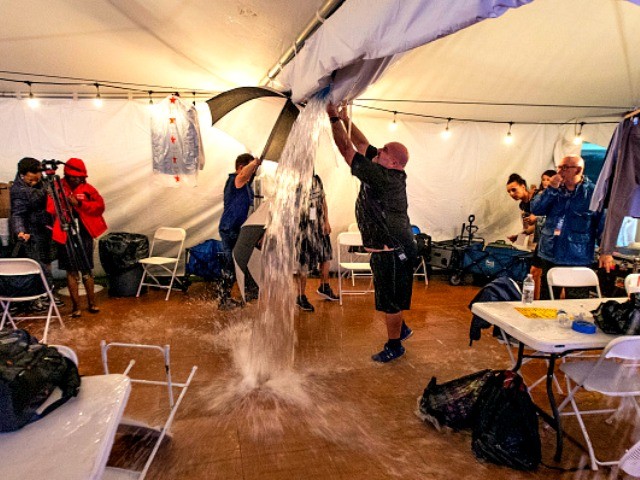 Sections of the Andrew Gillum campaign's outdoor press tent in Tallahassee, FL, had to be cut to prevent collapse under Tuesday's heavy rains. Various reporters on scene shared videos and photos from within the tent.
CTV's Richard Madan shared on Twitter from inside, wondering why Gillum's election night party was not held indoors.
What a mess. Security evacuating @AndrewGillum sagging press tent because of the torrential downpour. Cables and electrical wires are on soaking wet grass. #ElectionDay #Florida #TheBadPlace pic.twitter.com/LYIcrFNc7b

— Richard Madan (@RichardMadan) November 6, 2018
I wonder who thought it would be a good idea to hold @AndrewGillum election night party outdoors. Torrential rains moving in and the tents can barely hold the Florida downpour #midterms2018 pic.twitter.com/1l1tjp27y6

— Richard Madan (@RichardMadan) November 6, 2018
NPR's Jessica Bakeman noted the risk of water damage to equipment such as cameras:
It's insanity at Gillum headquarters right now. There's a torrential downpour. The campaign is trying to move dozens of local, state and national media out of the tent to an inside location. Meanwhile camera operators are desperately trying to keep their equipment dry.

— Jessica Bakeman (@jessicabakeman) November 6, 2018
Other reporters shared similar videos of leaks within Gillum's press tent.
— Andrew Desiderio (@desiderioDC) November 6, 2018
What happens when you put a bunch of reporters in a tent? We document the collapsing of said tent during a thunderstorm at @AndrewGillum HQ. pic.twitter.com/dOX498ISGT

— Troy Kinsey (@TroyKinsey) November 6, 2018
It's raining really really hard in Tallahassee right now at Gillum's election night Headquarters. And to show you, There's a possibility that water could fall through a tent that's set up for the Media. It's going to be a long night pic.twitter.com/ubJhzTknFj

— Jerry Askin (@JerryAskinNews6) November 6, 2018
A look inside the press tent at Andrew Gillum's watch party. Press is slowing coming back in because the rain is slowing down @WUFTNews pic.twitter.com/C92t7giXJe

— Veronika Vernachio (@V_Vernachio) November 6, 2018
Pouring rain and lightning at #Gillum election event forcing media from around the country to run inside this tiny leaky press tent – hope it doesn't collapse – lots of electronics in here pic.twitter.com/fCSO39bCia

— Terri Parker (@wpbf_terri) November 6, 2018
A member of the media cuts a hole in the media tent's roof to release the accumulated water during heavy rains and lightning at Andrew Gillum's election night party. The media was evacuated for safety concerns.

📷: Mark Wallheiser pic.twitter.com/OphAH4sERz

— Getty Images News (@GettyImagesNews) November 6, 2018
The Weather Channel forecasts ongoing rain via scattered thunderstorms until Saturday.
Follow Robert Kraychik on Twitter.
http://feedproxy.google.com/~r/breitbart/~3/hZgYke7oVWE/