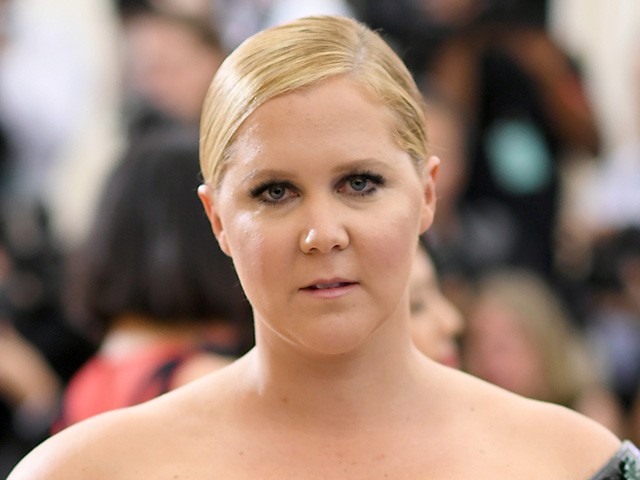 In a lengthy Instagram post on Friday, actress Amy Schumer asked "why more white players aren't kneeling" during the national anthem. The Trainwreck star also called on pop group Maroon 5 to cancel their Super Bowl LIII performance.
Schumer also committed to a protest of her own, of sorts, by saying she would refuse to participate in any commercial set to air during Super Bowl LIII.
"I personally told my reps I wouldn't do a Super Bowl commercial this year," Schumer wrote on Instagram. "I know it must sound like a privilege-ass sacrifice, but it's all I got. Hitting the NFL with the advertisers is the only way to really hurt them."
It's unknown if the NFL actually planned to include Schumer in any Super Bowl commercials.
Regarding white NFL players, the I Feel Pretty actress charged them with being complicit in the oppression of their "brothers," by not protesting.
"Once you witness the truly deep inequality and endless racism people of color face in our country, not to mention the police brutality and murders. Why not kneel next to your brothers? Otherwise how are you not complicit?"
On Thursday, Us Weekly reported that pop singer Rihanna had turned down the NFL's offer to perform during the Super Bowl halftime show in order to show solidarity with unemployed anthem protester Colin Kaepernick. The magazine also reported that Maroon 5 agreed to perform at he Super Bowl soon after Rihanna turned it down.
Schumer thought it would be a good idea for Maroon 5 to follow Rihanna's lead, and turn the NFL down, telling her Instagram followers it "would be cool," if Maroon 5 told the NFL no.
Amy Schumer appeared in a Super Bowl ad with actor Seth Rogen in February of 2016.
Kaepernick began his anthem protest in the preseason of 2016. However, after that season, the former 49er walked away from his contract with San Francisco. Kaepernick was not re-signed by another club and remains unemployed by the league. In October of 2017, Kaepernick filed a collusion grievance against the NFL. Alleging that the league's owners conspired to keep him off a roster due to his anthem protests.
Follow Dylan Gwinn on Twitter @themightygwinn
http://feedproxy.google.com/~r/breitbart/~3/u4ZTEApe774/