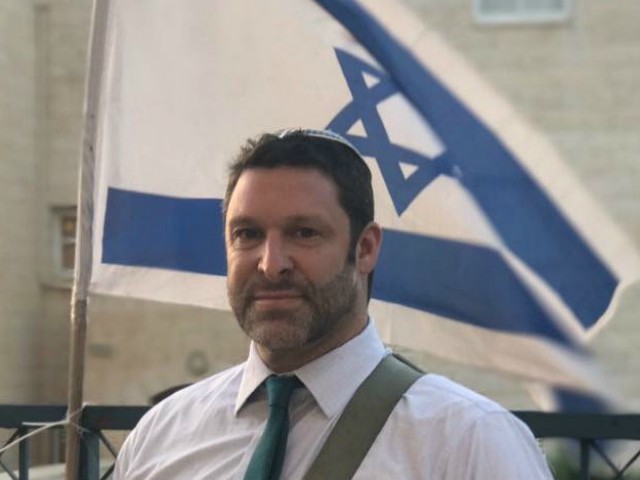 Ari Fuld, a popular U.S.-born activist and outspoken Israel advocate, has been identified as the victim of a Palestinian terror attack Sunday.
AP reports the attacker arrived at the mall near a major junction in the southern West Bank, close to the Gush Etzion settlement bloc, and stabbed the Fuld before fleeing.
Video footage showed Fuld chasing his assailant and firing despite his wounds before collapsing. Other civilians shot the attacker, whom Israeli media identified as a 17-year-old from a nearby Palestinian village. His condition was unclear.
A 17 y/o Palestinian terrorist, brainwashed to murder Israelis since he was a child, stabbed today Ari Fuld, a father of 4, to death.

Although he was stabbed from behind, Ari (lion in Hebrew) fought like a lion. He chased the terrorist & shot him before collapsing. He was a hero pic.twitter.com/7Mj5UxmW76

— Ofir Gendelman (@ofirgendelman) September 16, 2018
Fuld, a 40-year-old father of four who lived in the nearby settlement of Efrat, was evacuated to a hospital but was pronounced dead soon after.
Fuld was a well-known English-language internet commenter on current affairs and the weekly Torah study. He was known for his strong support for the Israeli military and the Jewish state.
Tributes to his work began flowing almost immediately:
America grieves as one of its citizens was brutally murdered by a Palestinian terrorist. Ari Fuld was a passionate defender of Israel & an American patriot. He represented the best of both countries & will be deeply missed. May his family be comforted & his memory be blessed.

— David M. Friedman (@USAmbIsrael) September 16, 2018
Deepest condolences to the family and loved ones of Ari Fuld, murdered in Gush Etzion today. The attack was an outrageous act of terrorism, which should be loudly condemned by all. May Ari's memory be a blessing and a source of comfort to his family and community.

— Dan Shapiro (@DanielBShapiro) September 16, 2018
Lior Shourka, a friend of Fuld's, called him a "true Israeli patriot."
AP contributed to this report
Follow Simon Kent on Twitter:

Follow @SunSimonKent

or e-mail to: skent@breitbart.com
http://feedproxy.google.com/~r/breitbart/~3/It29QL99R3A/