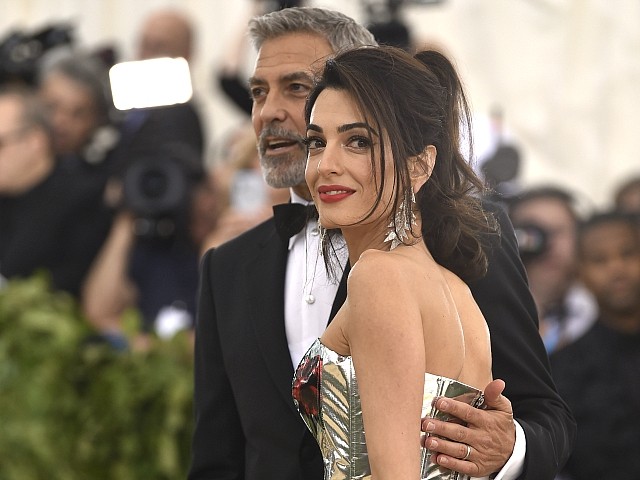 Amal Clooney, the British-Lebanese human rights attorney married to Hollywood star George Clooney, eviscerated President Donald Trump Wednesday evening, accusing the commander-in-chief of providing autocratic regimes a "green light" to torture and murder journalists by labeling them the "enemy of the people."
Speaking before the United Nations Correspondents Association Awards in New York, Amal Clooney claimed members of the media are "under attack" in countries such as North Korea, Hungary, and Turkey, Vanity Fair reports.
"The U.S. President has given such regimes a green light and labeled the press in this country the "enemy of the people," Clooney said. "And of course two months ago a Washington Post journalist, Jamal Khashoggi, walked into a consulate in Istanbul and was brutally tortured to death."
Clooney, a frequent critic of the Trump administration, has previously criticized the president's passionate defensive against partisan media coverage. As part of Vanderbilt University's 2017 commencement activities, Clooney urged students to be brave in the face of purported attacks on the free press from the White House.
"At a time when the LGBT community in every continent struggles for equal rights, freedom from imprisonment and even death, we need courage," she said. "At a time when more journalists are in prison around the world than at any time in the last three decades, and even here at home the media is under attack from the White House, we need courage. And at a time when our politicians try to conflate the terms refugee and terrorist and make us fear one another, we need courage."
As Breitbart News's Ben Kew reported, the Clooneys, estimated to have a net worth of $500 million, have donated to a wide range of progressive advocacy groups.
In June, the pair gave $100,000 to Young Center for Immigrant Children's Rights to aid child migrants separated from their parents at the U.S.-Mexico border, according to The Hollywood Reporter. The power couple in February donated $500,000 "March for Our Lives," a nationwide protest movement fighting for increased gun control. Last year, the Clooneys forked over $1 million to the Southern Poverty Law Center (SPLC) following the deadly protest by white nationalists in Charlottesville, Virginia.
http://feedproxy.google.com/~r/breitbart/~3/xZRHdULI8PE/